1.

PDS Starting Guide with RaspberryPI 2 Controller

This guide aims to demonstrate the Sewio Proximity Detection System including two demo applications: zoning and wireless gate with entry direction detection.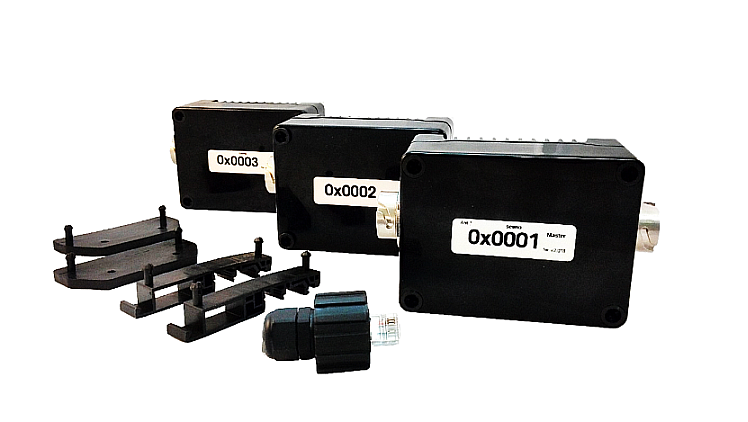 2.

System Requirements

Raspberry Pi 2 (here and after RPI) and WiFi USB adapter Ralink RT5370 802.11n

Computer with WiFi connectivity

Google Chrome browser

Bonjour service (optional)
3.1.

Connecting and Deployment PDS Components

Only the Master anchor can be connected to the LAN network and RPI, never do it with Slave Anchors! Although all the anchors have two RJ45 Jacks available, only the Master Anchor disposes the Ethernet interface, others have RS-422 communication interface.


Always use Shielded Ethernet cables (STP) between slave anchors since shielding is used as separated communication ground while as power ground use dedicated pair of wires.
3.1.1.

Hook up WiFi adapter

Hook up WiFi Ralink RT5370 adapter to RPI.
3.1.2.

Connect LAN port

Connect the RPIs Ethernet LAN port with LAN socket of PoE power supply adapter.
3.1.3.

Connect the Master Anchor

Then, connect the Master Anchor (Address 0x0001) Ethernet jack with the PoE supply adapter "PoE" port. This connection must be done via shielded Ethernet cable. For industrial environment Bayonet locking Ethernet cable is available.

Only Master Anchor with address 0x0001, and with signed "Ethernet" jack can be connected to the RPI. Please do NOT connect any other anchor to RPI.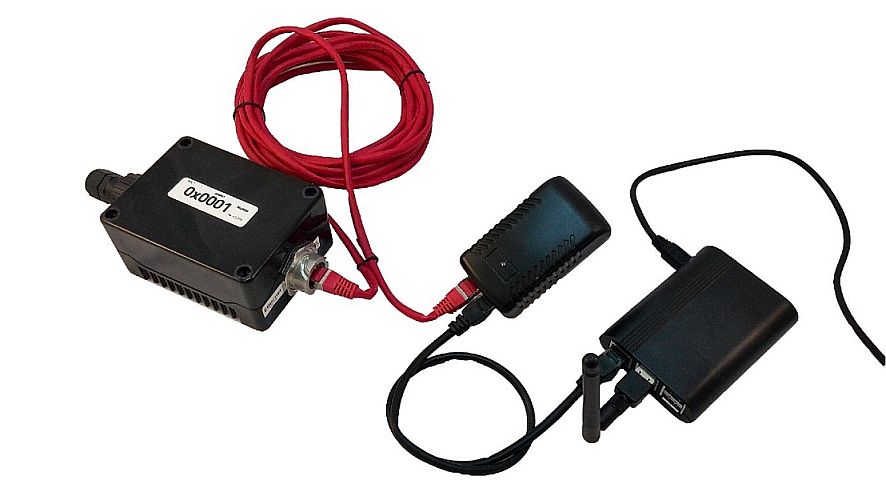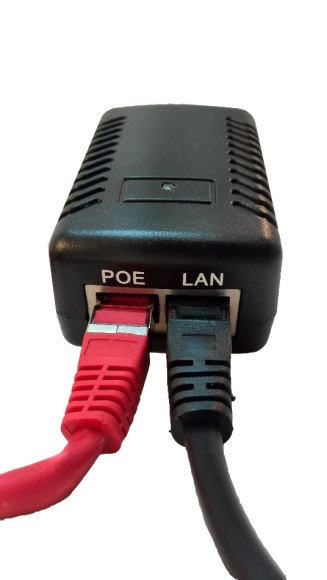 3.1.4.

Add the Slave Anchor

Continue the wiring with adding the Slave Anchor(s) to the chain via shielded Ethernet cable.

In case of bayonet IP67 Ethernet cables please turn the black O ring on the front of the plug clockwise, until it's clicked to the right position.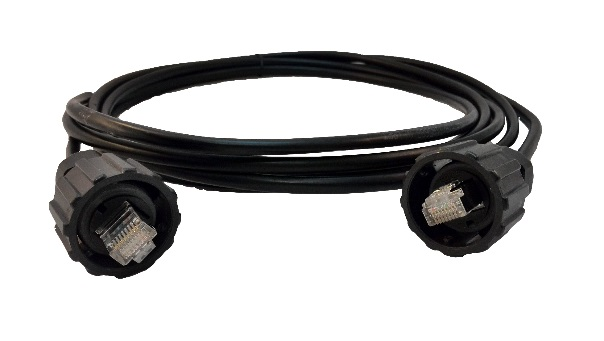 3.1.5.

Terminator

The last Slave Anchor within the chain needs to be terminated via "Terminator" element.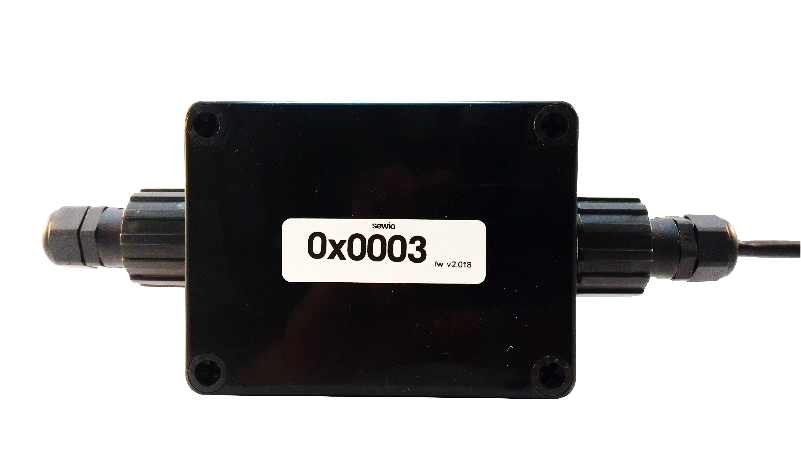 3.1.6.

Power up RPI

Once the wiring is finished, please power up RPI to power supply.

Raspberry PI should not be powered from computer's USB since RPI plus WIFI dongle need to have at least 1.5A power source available. Please use dedicated USB power adapter or battery power pack instead.
3.2.

Starting up the PDS system

Wait for Raspberry Pi to fully boot 60 s.
3.2.1.

Connect and Verify

Connect host computer to "PDS-AP" WiFi network (password "pisensmap").

Now verify the connection from computer to Raspberry Pi using ping command. In Windows click on Start and write cmd command in Run field. Write ping 10.0.0.1

If you don't see WiFi network PDS-AP or can't connect to server, SD card might be corrupted, please jump to 6.3.??????????
3.2.2.

Domain Name

Please note: RPI is available also via domain name pds.local, ping domain name takes some time to get reply. pds.local instead of IP address should work on iOS and linux natively, if it's not reachable on Windows, please install Bonjour service from apple.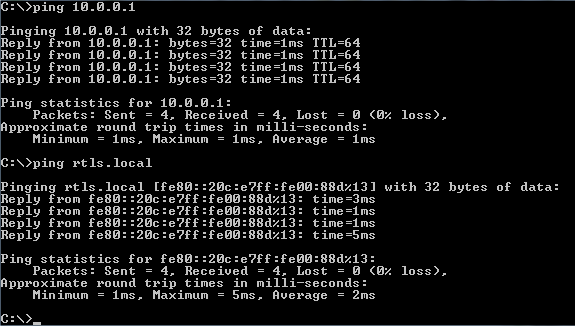 3.2.3.

Deploy Anchors

Deploy Anchors physically and power them up.

The best performance is achieved if anchors and tags are in line of sight condition.

Obstacles such as walls or human bodies might attenuate or reflect the radio signal. For best measurement performance anchors should be placed on good visible spot the same applies for tags placement.

The best position for the Anchors is depending to the application, but in every case is required to place the Anchors so that there should not be any object in diameter of 20cm around of the device. For best performance, the Anchors should to be placed with the antenna point to the direction, where the Tag is located.
4.

Proximity Detection System Demo Application

Sewio provides two demonstration applications for PDS which are available via web interface.

The Zones demo is a good example for objects detection in defined radius. If some rule is matched defined event is invoked. This demo can be used with one or multiple anchors.

The Gates demo is aimed to demonstrate virtual gate system for forklift or drones where number of entries and direction of the entry is detected.

Open Google Chrome browser and go to url http://10.0.0.1/pds/
4.1.1.

Home

First tab "Home" shown the list of Tags and Anchors in a grid. Distance measurement in meters between Tag and Anchor is displayed in corresponding grid cell. The value "N/A" indicates that Anchor has not received any data from particular Tag.

Rules and events are defined within the tab "Zones". Once a rule is matched particular event is generated.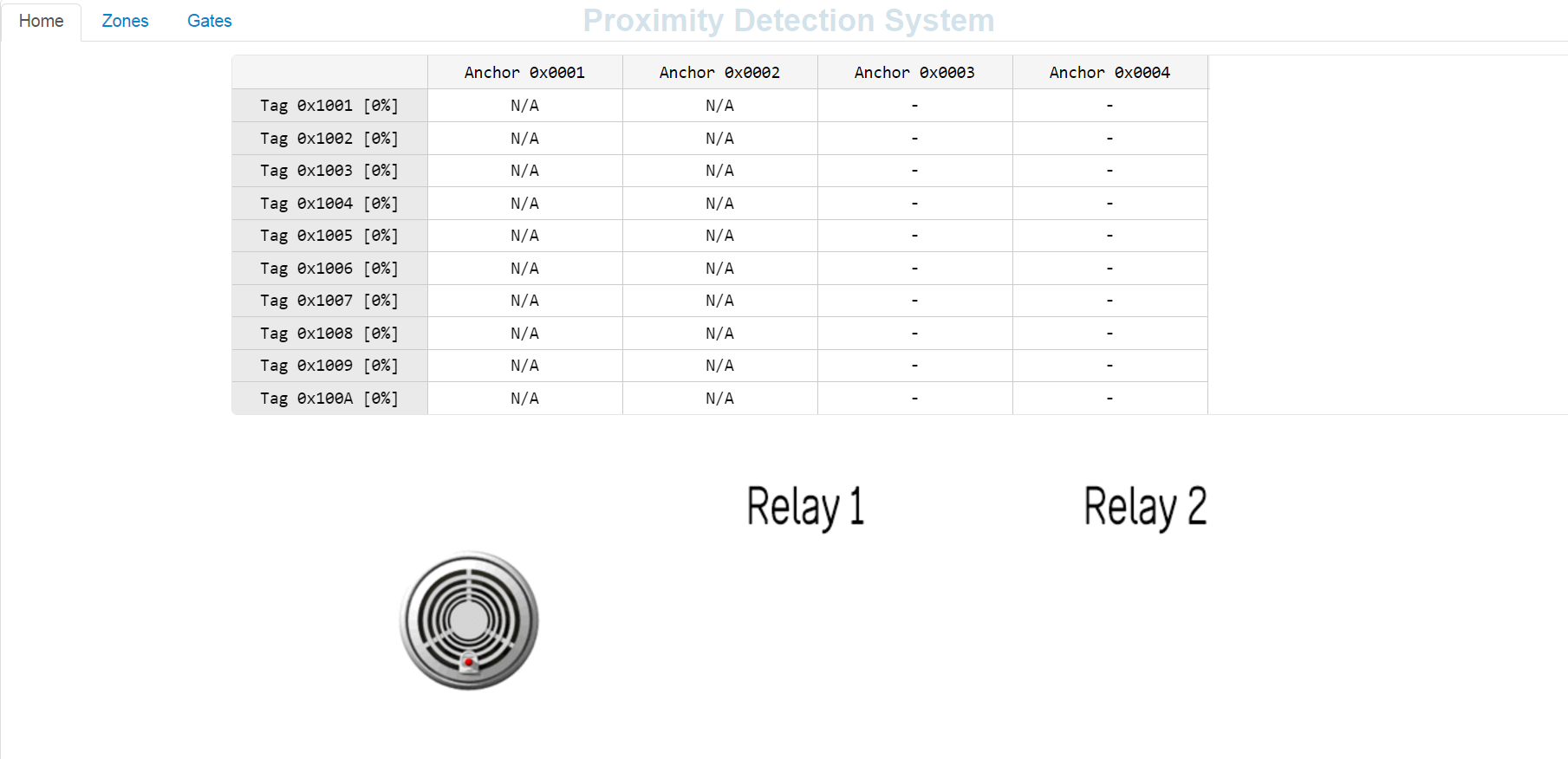 4.2.1.

Zones

For defining rules to PDS application, navigate for tab "Zones".

Each rule contains:

3 actuators: Beacon, Relay 1, Relay 2

Single or multiple Anchors/Tags

Combined rules for each of actuators, Tags, and Anchors

Rule names

4.2.2.

New rule

New rule requires to define:

"Name"

"Distance" and it's attitude "<" or ">" which is the key parameter for actuating the rule

tag address, which will actuate the rule

anchor address, which by will actuated the rule

one or more actuator event type setting
4.2.3.

Example

The example in the picture above shows four rules for Tag address 0x1002 and Anchor 0x0001.

The defined rules are following:

IF Tag has a distance with Anchor greater than 5 m, than Beacon alarm will be disabled.

IF Tag has a distance with Anchor less than 5 m, than Beacon alarm will be enabled.

IF Tag has a distance with Anchor greater than 3 m, the Relay 1 will be enabled.

IF Tag has a distance with Anchor less than 3 m, the Relay 1 will be disabled.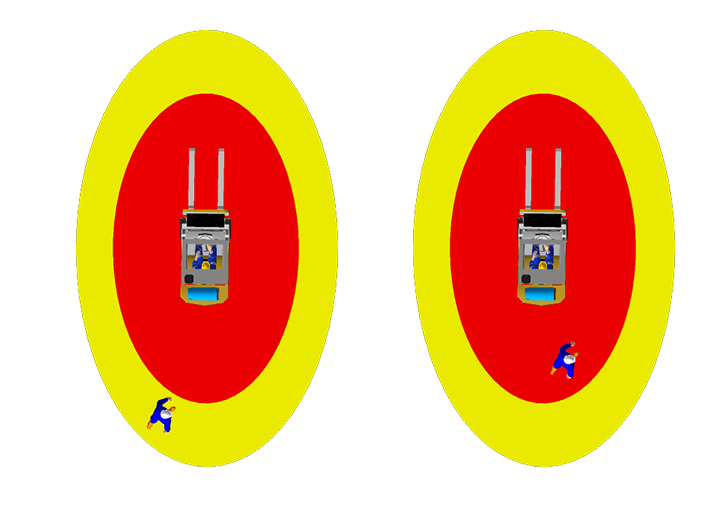 It can illustrate a real situation, where the Relay 1 controls a dangerous machine, which needs to be switched off, if some worker is nearby. IF Tag carrying by the worker is in radius less than 5 meters from the Anchor mounted on the machine, the Beacon will be activated in order to warn the worker.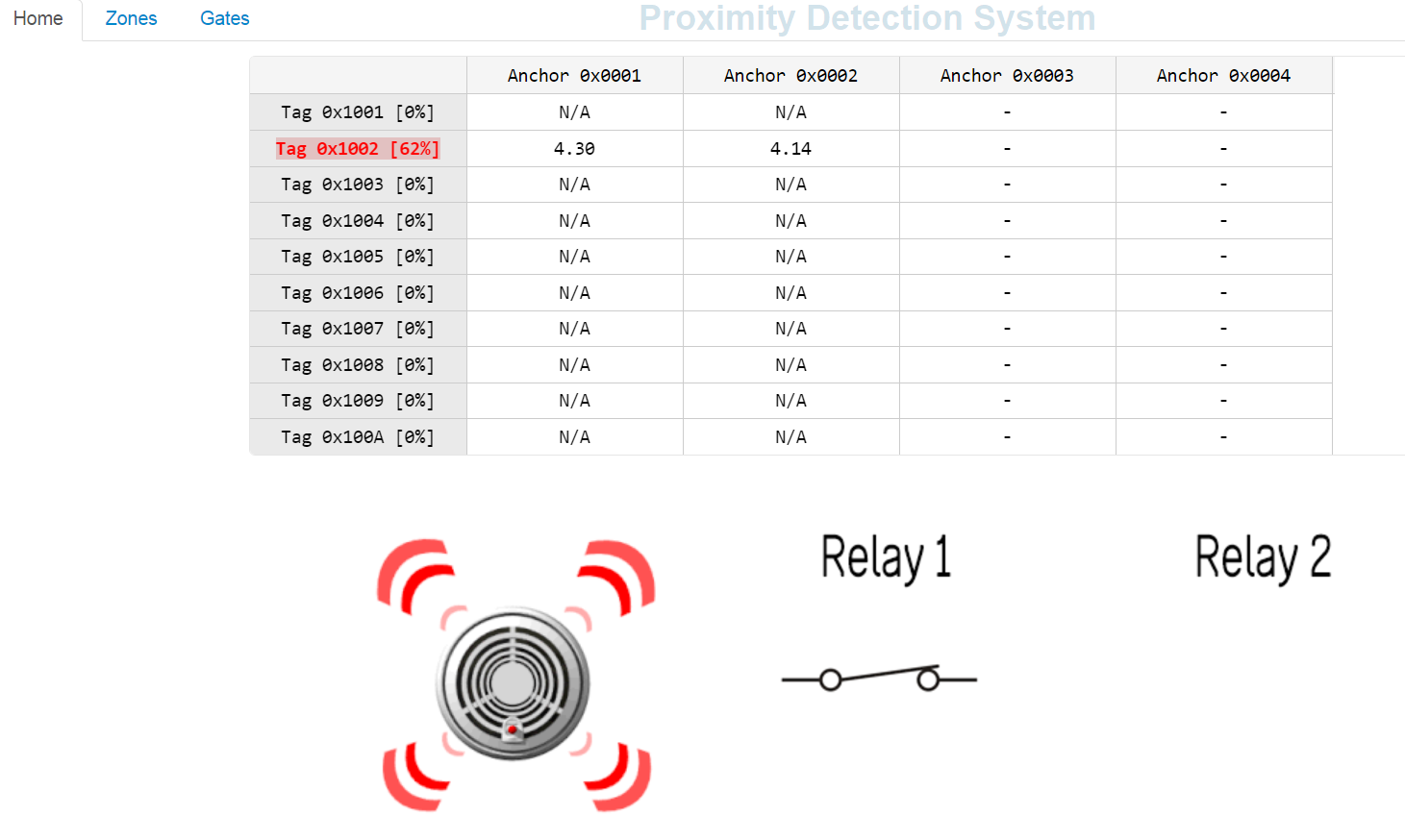 Then if the worker cross zone with radius 3 meters, the relay 1 will disabling the machine, so the injury can be avoided.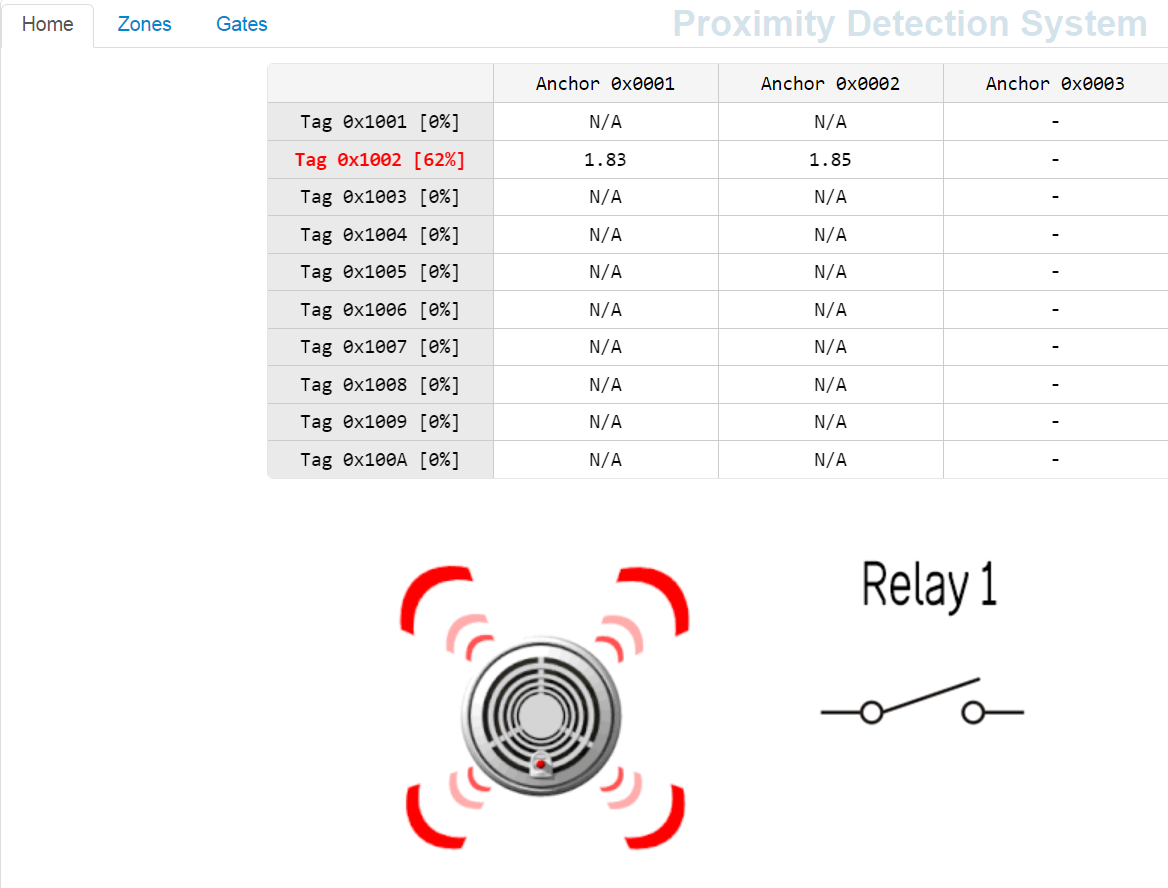 4.2.4.

Zone Settings

"Zone Settings" can be found in the right bottom corner. This menu offers median filtering and set the default states for the actuators.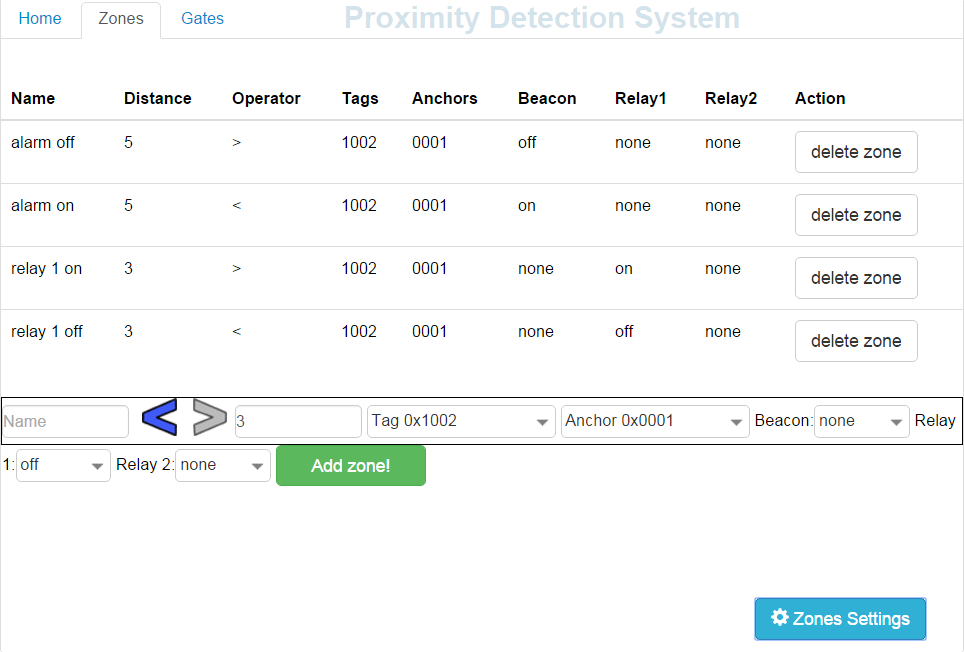 5.

PDS web page – Gates

The second demo application is available via Tab "Gates". This demo is useful for demonstrating forklift entrance count and direction detection. The Gates demo is preset for two Anchors with addresses 0x0001 and 0x0002.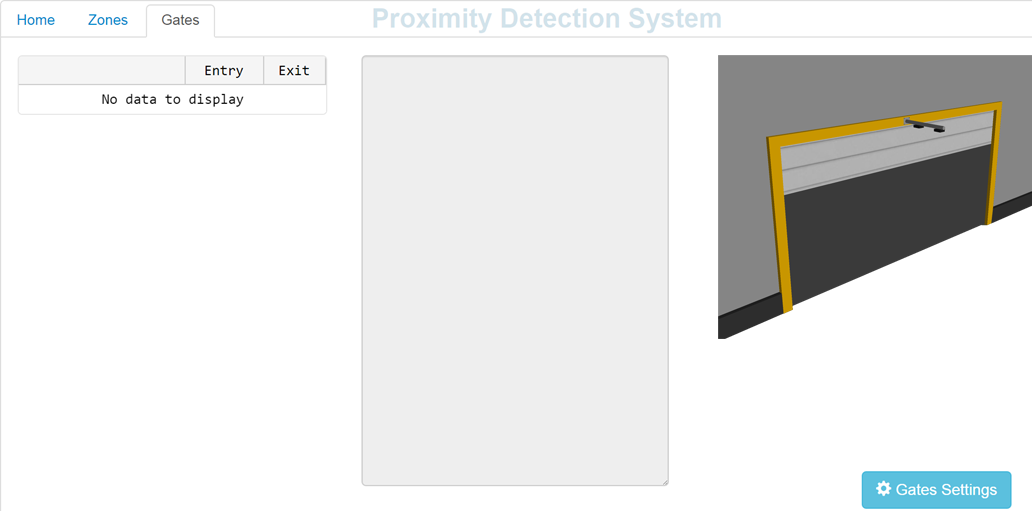 5.1.

Recommended installation

Recommended installation of PDS Anchors for detecting direction of entries by Gates application:

[Picture placeholder]
5.2.

Gate settings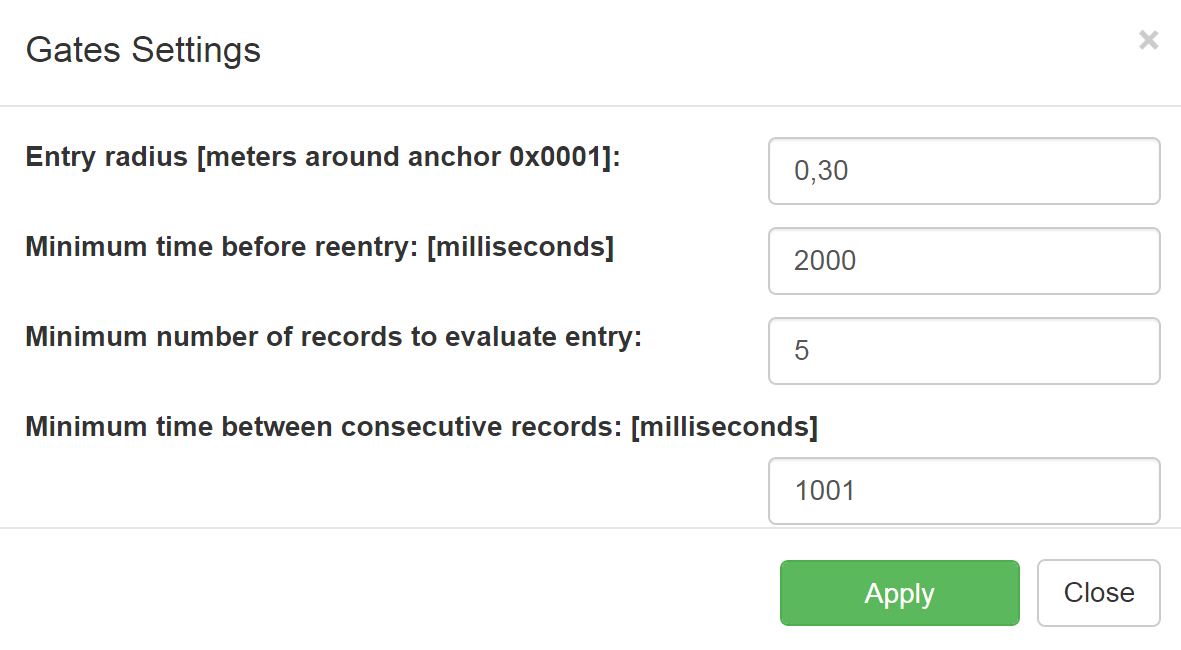 6.

Troubleshooting
Cloning RPI2 image to SD card
In order to prepare valid SD card for RPI2 with PDS software, please follow steps:
Download pds-ap-rpi.img image, provided by Sewio.
Download Win32 Disk Imager.
Unzip and install Win32 Disk Imager.
Connect SD card to PC and find out which letter it has been assigned.
Open Win32 Disk Imager and choose pds-ap-rpi.img as an image file.
Choose SD card's letter as a device and hit write.
Wait until the process is done, then remove SD card from PC.
Put SD card into Raspberry Pi and add power, system should boot now.
7.

Terms and Conditions

Sewio provides the enclosed product under the following conditions:

This kit is intended for use for ENGINEERING DEVELOPMENT, DEMONSTRATION, OR EVALUATION PURPOSES INDOORS ONLY and is not considered by Sewio to be a finished end-product fit for general consumer use. Persons handling the product(s) must have electronics training and observe good engineering practice standards. As such, the goods being provided are not intended to be complete in terms of required design-,marketing-, and/or manufacturing-related protective considerations, including product safety and environmental measures typically found in end products that incorporate such semiconductor components or circuit boards. This evaluation kit does not fall within the scope of the European Union directives regarding electromagnetic compatibility, restricted substances (RoHS), recycling (WEEE), FCC, CE or UL, and therefore may not meet the technical requirements of these directives or other related directives.

The user assumes all responsibility and liability for proper and safe handling of the goods. Further, the user indemnifies Sewio from all claims arising from the handling or use of the goods.

EXCEPT TO THE EXTENT OF THE INDEMNITY SET FORTH ABOVE, NEITHER PARTY SHALL BE LIABLE TO THE OTHER FOR ANY INDIRECT, SPECIAL, INCIDENTAL, OR CONSEQUENTIAL DAMAGES.

Sewio assumes no liability for applications assistance, customer product design, software performance, or infringement of patents or services described herein.

No license is granted under any patent right or other intellectual property right of Sewio covering or relating to any machine, process, or combination in which such Sewio products or services might be or are used.

FCC Warning. This evaluation kit is intended for use for ENGINEERING DEVELOPMENT, DEMONSTRATION, OR EVALUATION PURPOSES ONLY and is not considered by Sewio to be a finished end-product fit for general consumer use. It generates, uses, and can radiate radio frequency energy and has not been tested for compliance with the limits of computing devices pursuant to part 15 of FCC rules, which are designed to provide reasonable protection against radio frequency interference. Operation of this equipment in other environments may cause interference with radio communications, in which case the user at his own expense will be required to take whatever measures may be required to correct this interference.

Sewio does not guarantee, or assume any responsibility or liability for, the accuracy, of PDS products since the accuracy and precision is parameter affected by the customer's environment and optimization of installation. Furthermore, injuries and interferences caused by radio signal emission are in full responsibility of the customer, who agrees to operate with the PDS product in such manner not to cause any above mentioned issues. Customer use of any information presented by Sewio as voluntary information and his reliance on this information is at customer's own risk.