Start to locate and track indoor with fully scalable RTLS UWB Kit
The Kit brings all you need to start build your smart project requiring precise real-time location data and accurate indoor positioning. The RTLS TDoA Kit is combining hardware components based on UWB (Ultra-Wideband) Decawave module, and RTLS Studio Software. The hardware as well as the software license included in the Kit can be later fully reused in an actual project.
Easy Integration

Space Scalability

Device Scalability
Accuracy Scalability

Position Update Scalability

Lead time: 2 weeks
Product Description
The Kit is ready to use, one box solution, coming with preconfigured hardware components, RTLS Studio Software and complete accessories. The Kit features 4 mobile locators.  It comes with 2 Tags Piccolino, a personal locator and 2 IMU Tags featuring inertial sensors for 3D movement orientation capture. The RTLS Studio Software is enabling fast deployment, commissioning, wireless configuration, monitoring services as well as Sage Analytics tool for deep location data analyses.
RTLS Studio Software Demo License features:
Full accessibility to RTLS Studio toolboxes

RTLS Manager for reliable system deployment and configuration

Geo Fencing tool with built-in trigger capabilities

Easy data access through Open API

Real-time movement visualization in 2D and 3D

Location data analytics – SAGE Analytics
What is in the box?
5x  Anchor Router Cube

2x Tag IMU

2x Tag Piccolino

Software full license for RTLS Studio and SAGE Analytics

Complete plug-and-play accessories

Full documentation
UWB Devices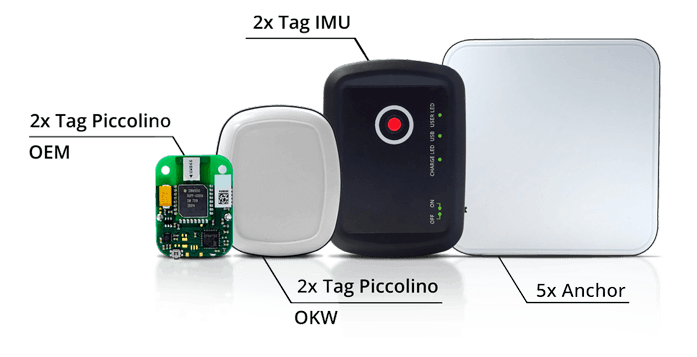 Learn more about RTLS UWB Platform »