What Is an Industrial RTLS?
The industrial environment imposes high reliability and performance demands for precise indoor tracking, delivered by a real-time location systems (RTLS), that needs to meet high quality standards and provide an industry-specific feature set.
The range of indoor tracking technologies is wide, yet only Ultra-wideband (UWB) can provide the accuracy, scalability and reliability needed in process-planned production in which the cost of every minute counts. Unlike other tracking technologies, only UWB provides an accuracy of 30 cm with unrivaled reliability, even in harsh metallic environments.
That is why UWB is leveraged by industrial enterprises, such as Toyota, Volkswagen and BMW, and its usage makes up 21% of Fortune 500 companies. UWB technology also had its debut on the consumer market by now being featured as standard in Apple's iPhones, starting in September 2019.
Indoor Positioning Systems Industrial Use Cases
What Are the Eight Key Attributes for RTLS in Industry?
1. Flexibility Based on Superior Accuracy
Many industrial use cases are leveraging the fact that the position of an object within the facility also defines its production stage. A pallet with materials that has just arrived in proximity to a press shop is about to go through the pressing process. Once it leaves the area closer to the welding section, you can assume that the welding process has already started.
A virtual zone is used to define the process stage using the tracked object's location. An unlimited number of custom-shaped virtual zones are drawn and defined using the software and can be updated instantly as the setting of the facility changes in the "zoning" or "geofencing" process. Each virtual zone corresponds to a process or its part. In a real-life scenario, there are many virtual zones, frequently close to each other with some of them being relatively small. For these reasons, high accuracy, reliability and regular refresh rates are needed to ensure that flawless and reliable zoning data can be used, for example, for production monitoring and planning or to simply trigger a necessary action based on the tracked item's current location.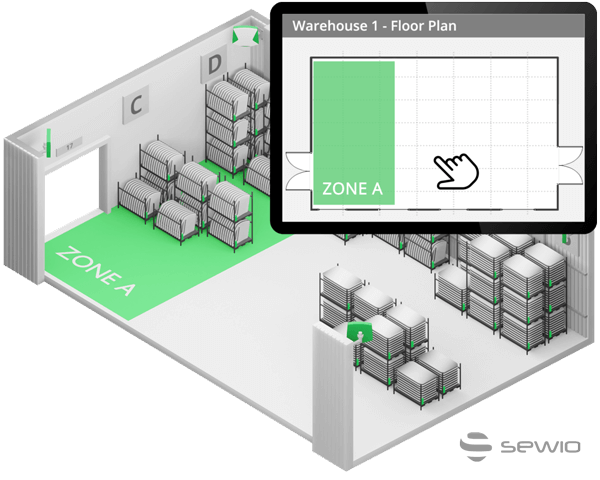 Leading RTLS allows not only instant virtual zone updates but also defines advanced zone  logic, including conditional positioning, zone exclusivity and specific out/in timeout settings, to mimic real-life processes easily.
Unlike other RTLS technologies such as Wi-Fi or Bluetooth, only a UWB-powered system can guarantee the 30 cm (1 foot) precision needed, for example, to decide on the correct position of a pallet (48″ x 40″ in US similar to EUR 2), making UWB RTLS the only choice for industrial use cases meeting this need.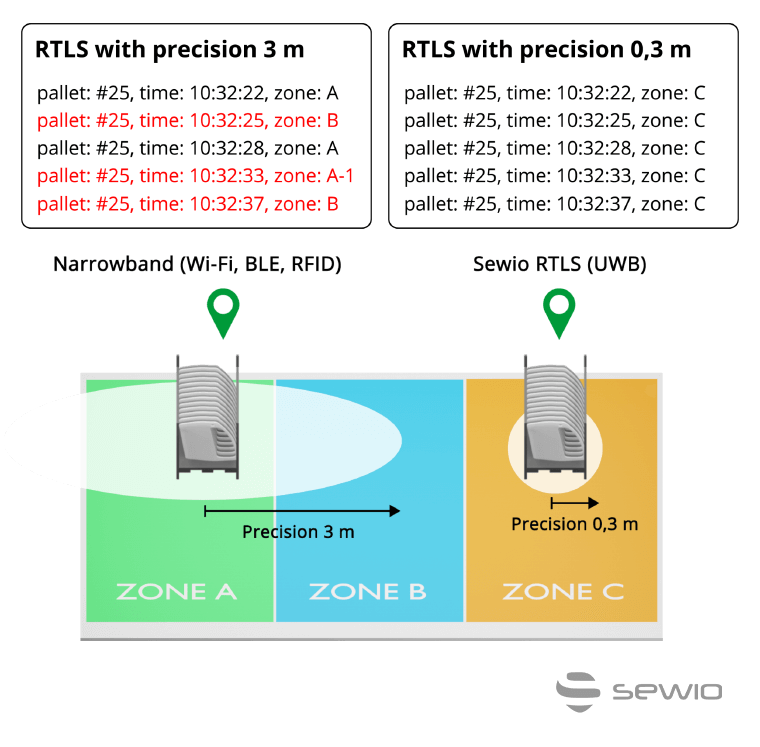 2. Scalability to Support Any Size of Projects, Now or in the Future
For a successful, ROI-driven indoor tracking digitization project, one scalable infrastructure, suitable for multiple existing and future business cases, is a must. RTLS's unrivalled scalability means you can:
Track a large number of objects (=tags) at the same time and in the same location cell
Cover huge areas and multiple halls within a single RTLS
Add more trackable objects and increase the coverage on-the-fly as your needs grow, without the need to reconfigure the current network
Customize existing tag types, e.g., by the use of additional sensors
Unlike other indoor tracking technologies, Sewio RTLS allows you to track thousands of tags within tens of thousands of square meters. The tracked objects and coverage can be extended easily by adding more tags and anchors without the need to reconfigure and pause the current system. The UWB tags are extensible and open for customization to fit customers' needs.
Covered Area
1..100,000+ m2
Number of Facilities
1..N
Number of Tracked Objects
1..1,000+
Number of Entity Types
1..N
3. Reliability to Support Mission-Critical Processes
One of the key benefits of industrial digitization is not only full process overview and transparency, but also the reduction of any human work prone to errors. As the key processes are managed by RTLS data, their performance dependability, as well as system uptime, needs to meet 99.9% reliability.
Unlike a UHF RFID powered indoor tracking system, where the antennas are often placed at the bottom of the tracked object and can get easily desynchronized or even damaged, the position of UWB antennas in up positions on the ceilings ensures steady operation. For a real-life comparison of the unreliability of UHF RFID, please see the Budweiser Budvar and SEG Automotive case studies.
In contrast to other systems, Sewio RTLS operates on dedicated, unoccupied and interference-free UWB technology that is fully industry certified to guarantee its reliable performance.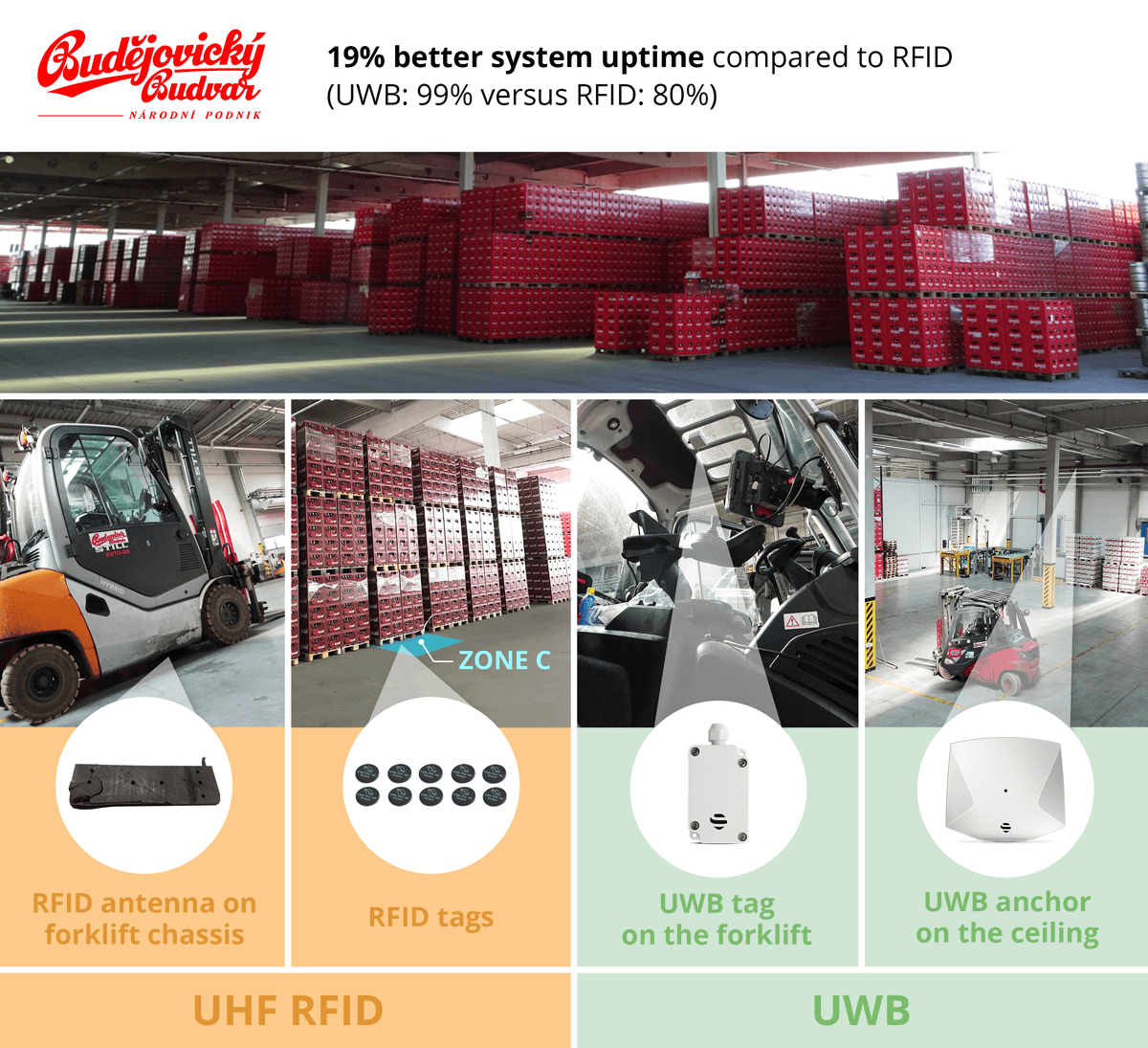 4. RTLS Readiness for the Harshest Environments
The industrial environmental conditions vary among facilities – from surgical cleanliness to the dustiest environments. However, in all of them, any radio-based tracking technology faces one enemy – a filled and dynamic space with metallic objects. The higher the presence of metallic objects, the higher the deflection of signals and the lower their quality.
Unlike other indoor tracking and positioning technologies, Sewio RTLS operates on dedicated, unoccupied and interference-free UWB technology that is fully industry certified to guarantee reliable and scalable performance in even the harshest environments.
A good example of Sewio RTLS readiness for a harsh environment is an indoor tracking project for Prakab, a cabling company, representing a heavy industrial environment with high signal reflections, where tags are mounted to metallic coils that are rotating at 300 RPM.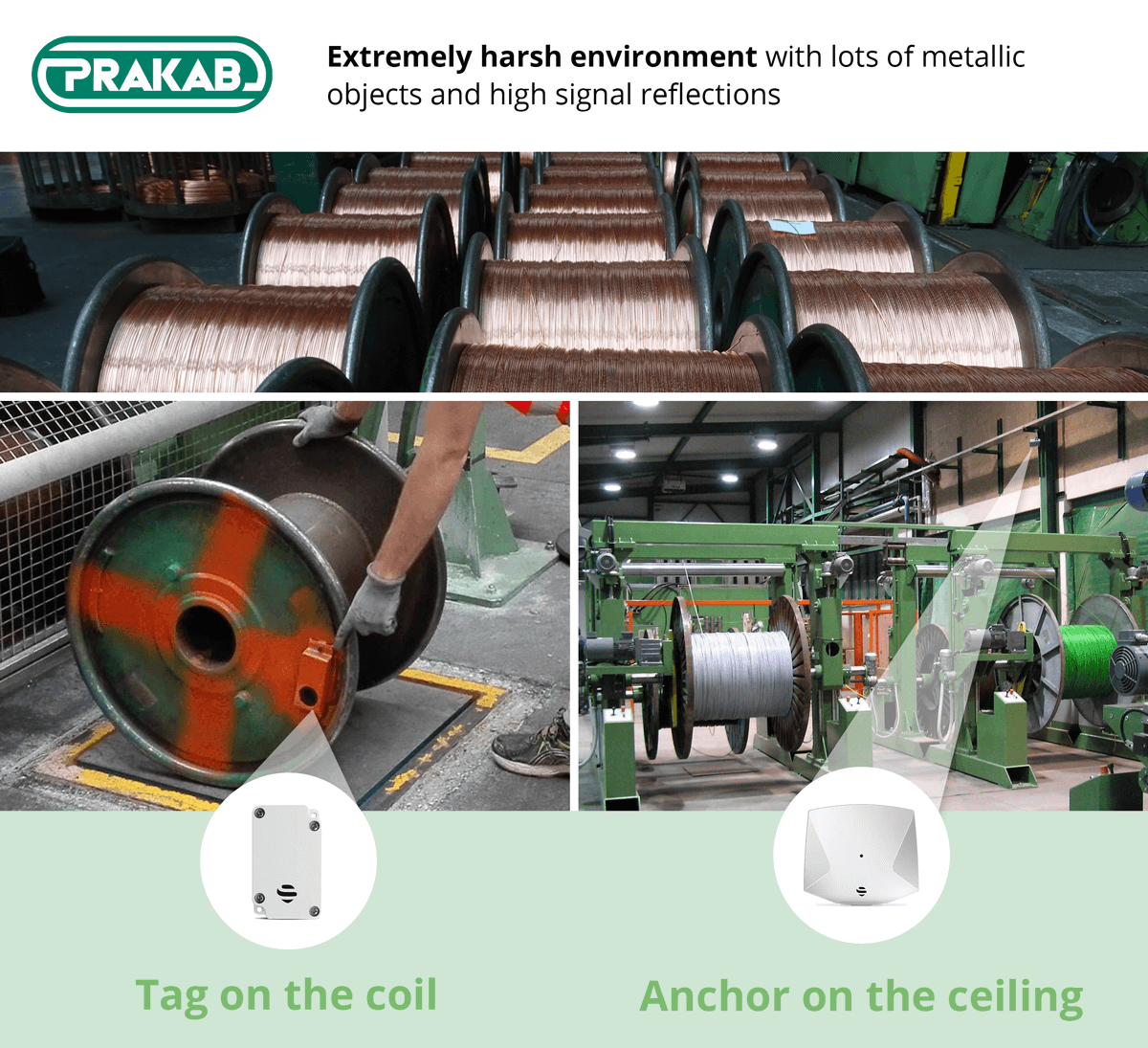 5. A Single Infrastructure Suitable for Multiple Business Cases
The biggest part of the total cost of ownership of any RTLS project is made up by the costs of the hardware and network. Gartner's customer reference survey says that over 75% of respondents report that they have three and more location use cases that ideally need to be provided by a single framework. To avoid the need of installing multiple infrastructures, each unique for the use case, it is crucial to choose one flexible infrastructure suitable for multiple existing and future business cases.
Sewio RTLS offers different versions of anchors to meet the varying coverage scenarios, as well as different types of anchors suitable for tracking different entities, all compatible to work on the same infrastructure as a single system – connected with its open and well documented API.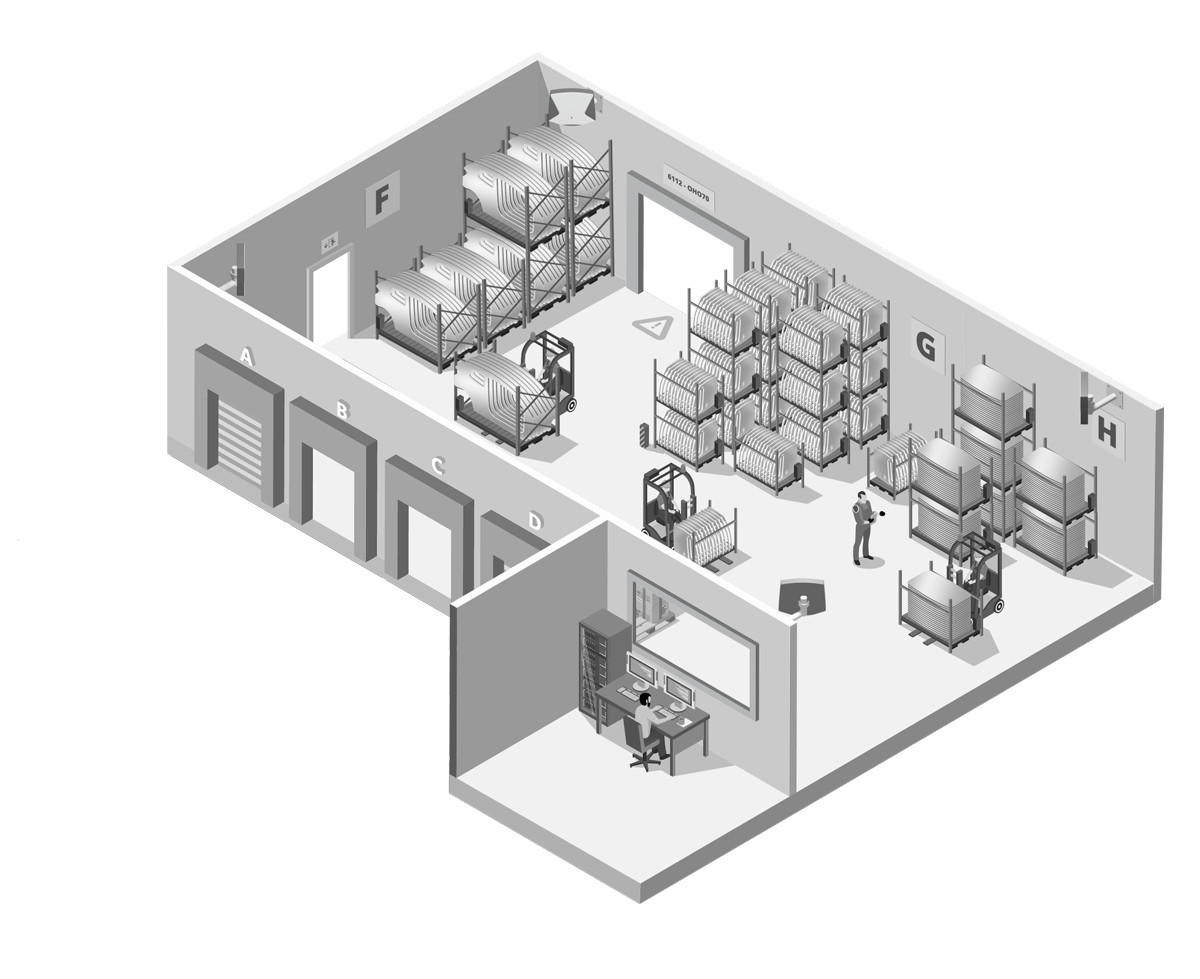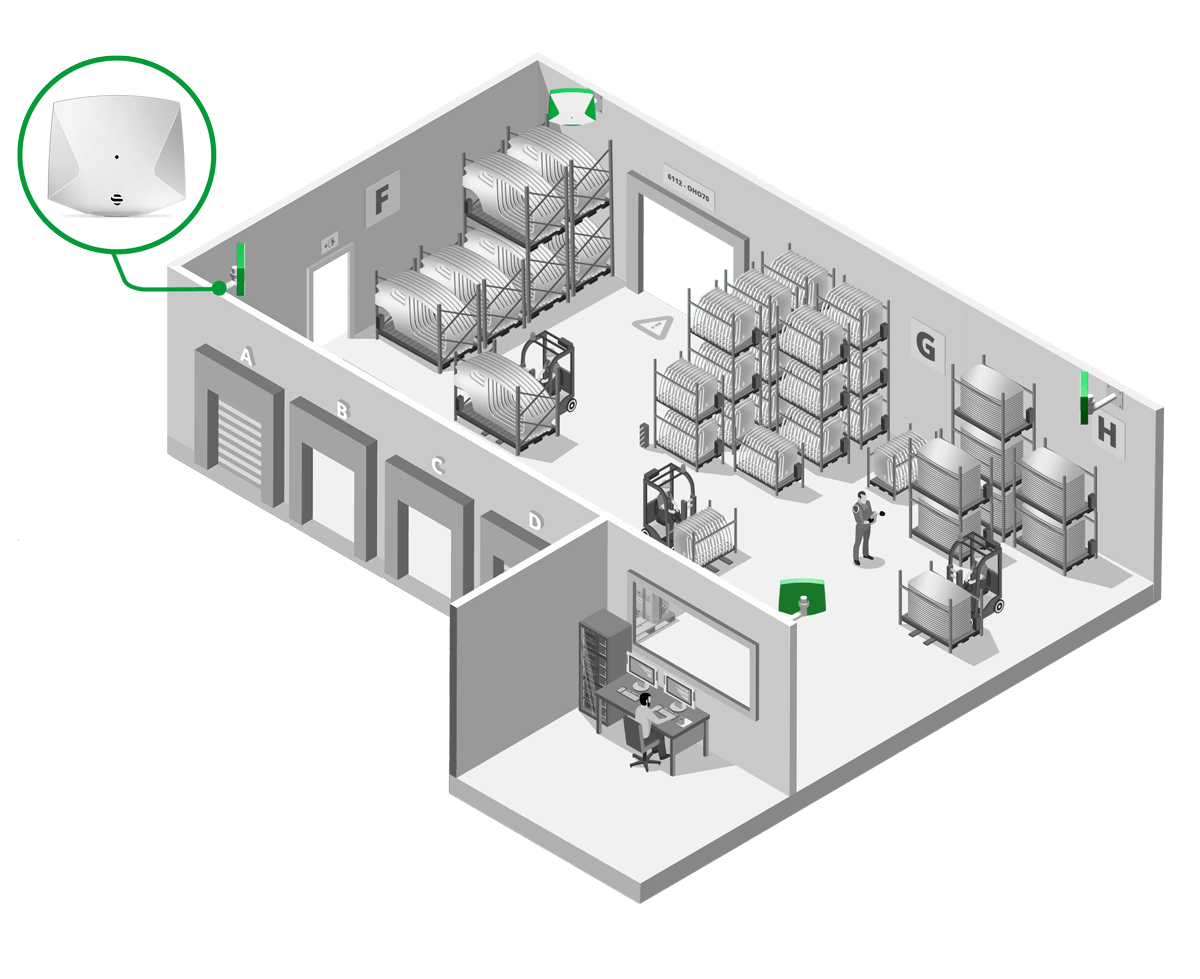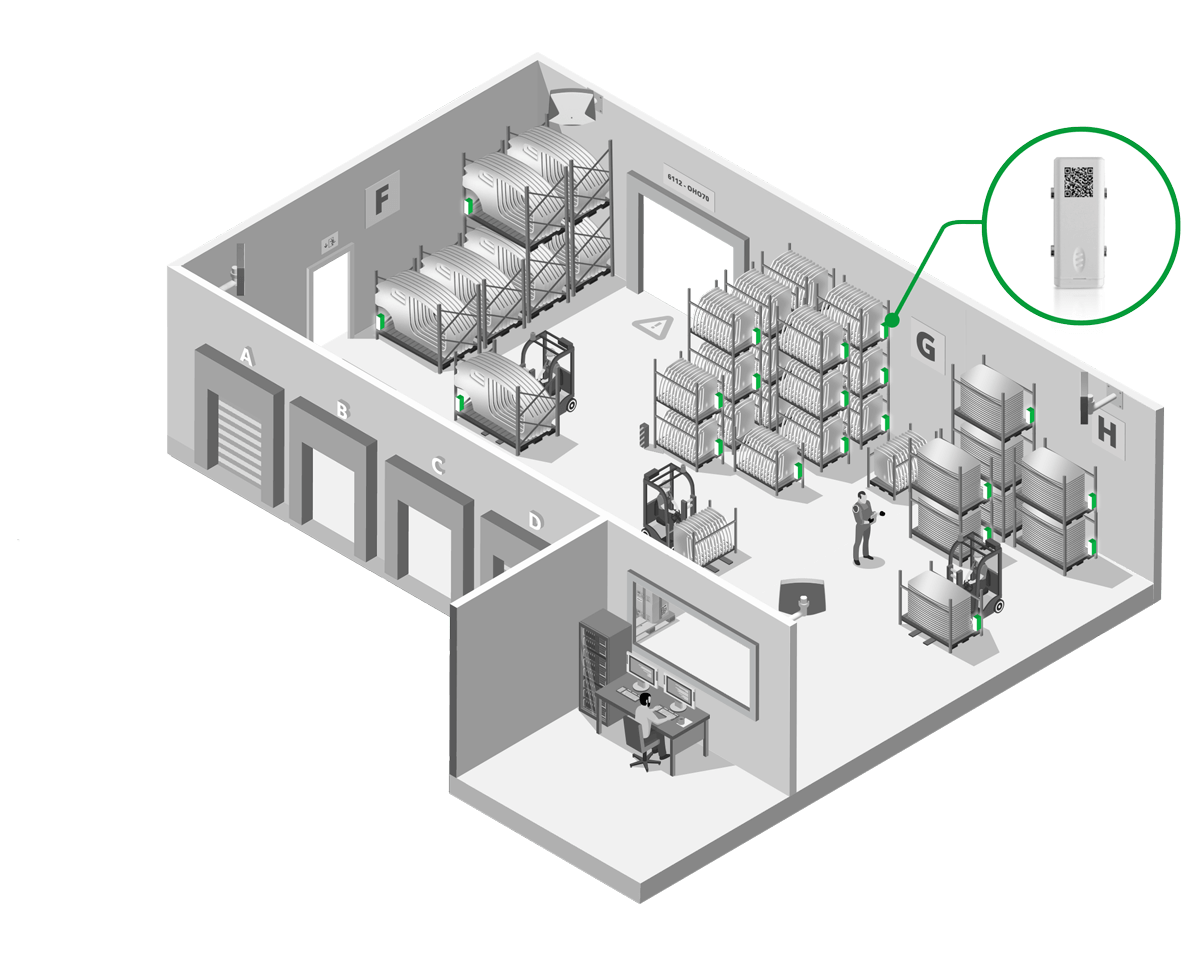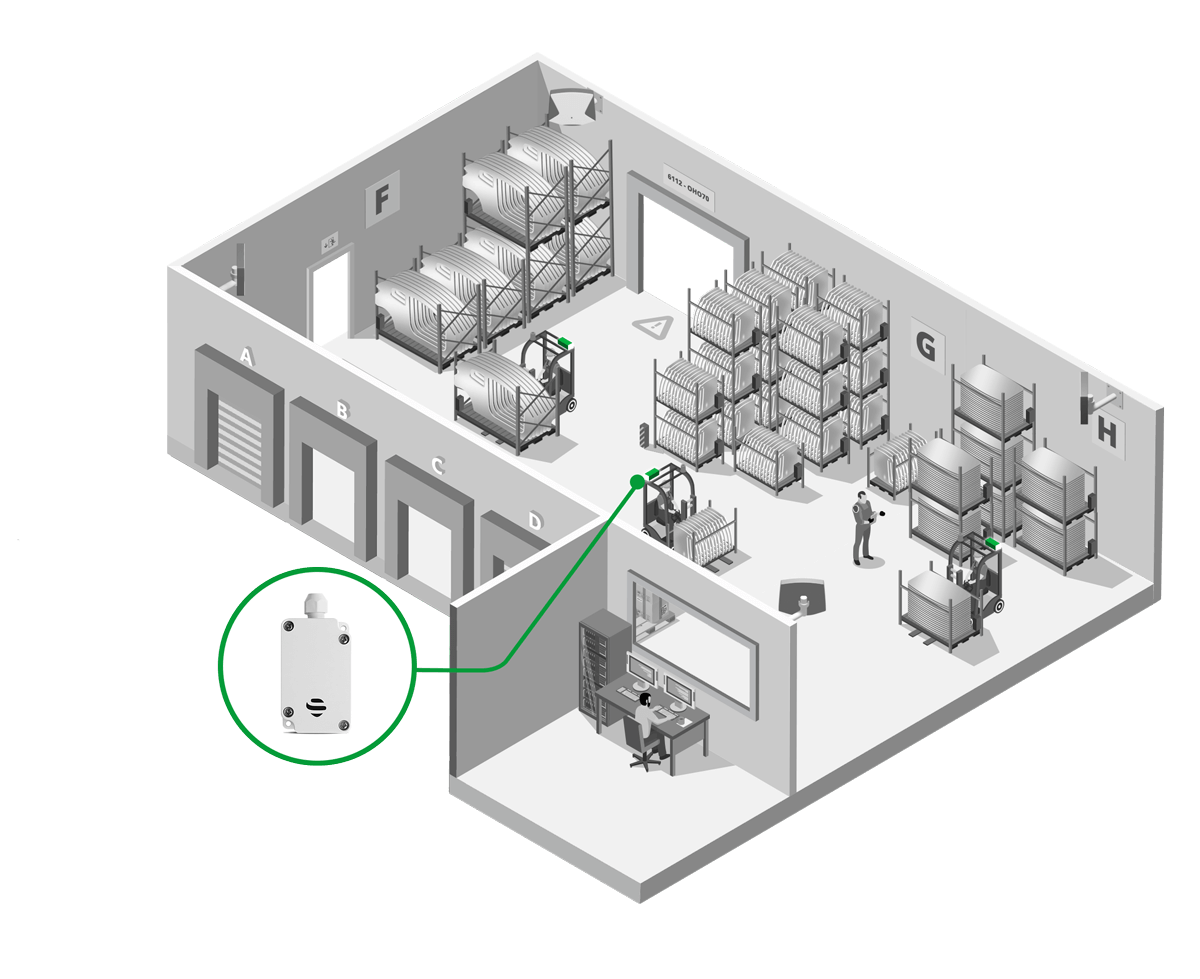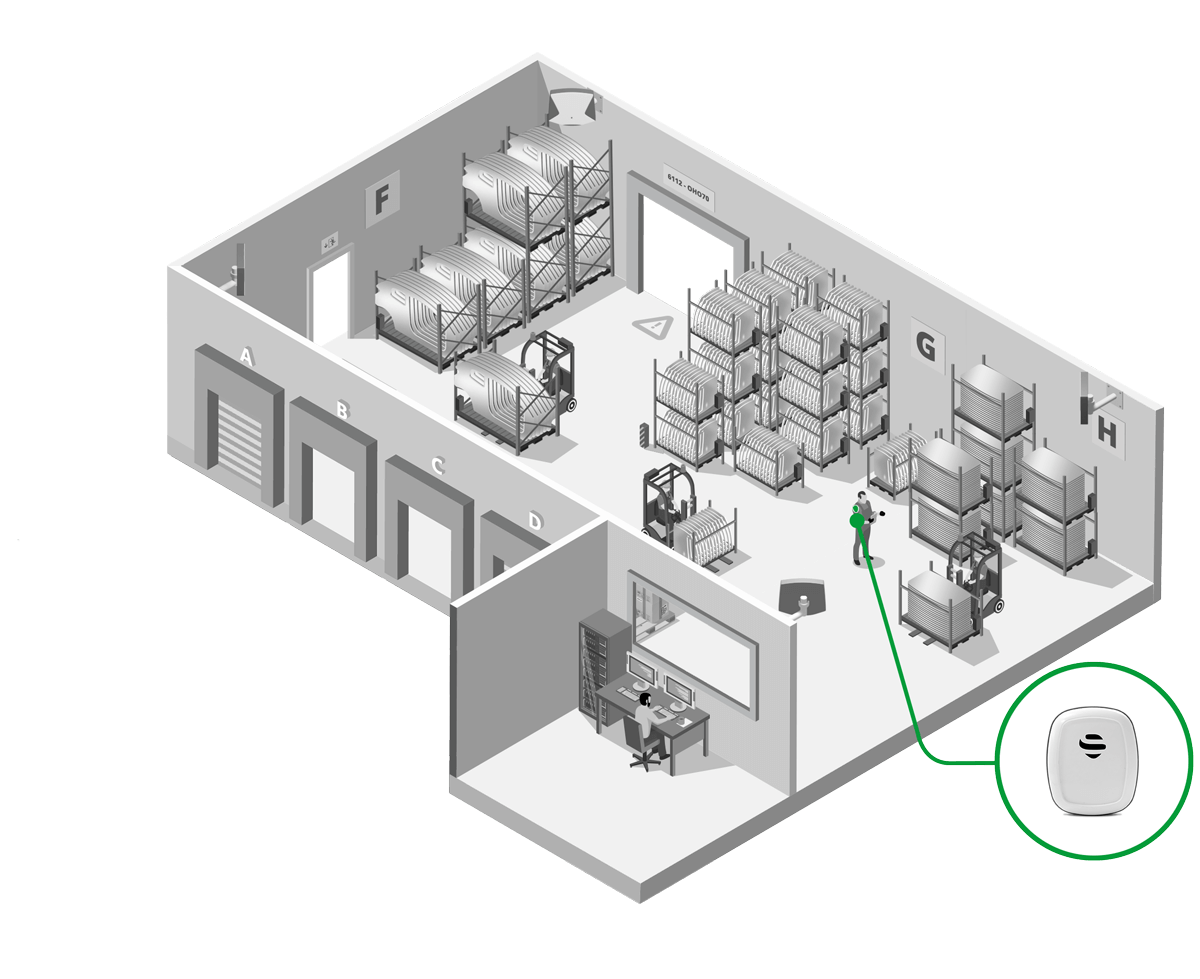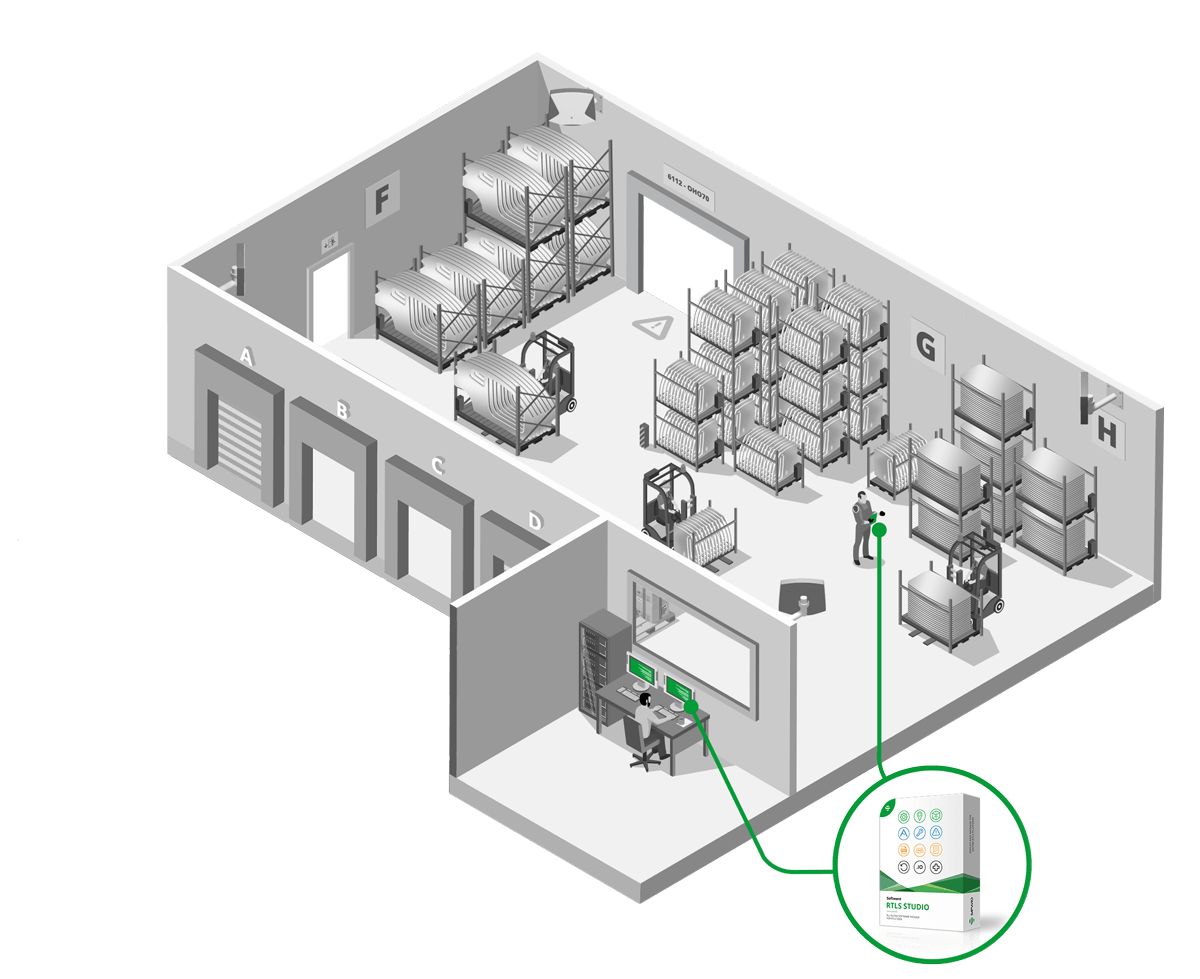 6. Open and Well Documented API
The true power of RTLS is revealed when its integrated with other information systems such as WMS, ERP or FMS. These systems can access real-time indoor tracking data through an open API.
Sewio RTLS provides bi-directional seamless third-party integration with our fully documented Open API. The API delivers user position data, sensors' data and other related metadata related to indoor positioning such as building information, floorplans and zones.
7. A RTLS Project's Budget and Maintenance Costs
A digitization project is only successful when it provides a short payback period and reasonable total cost of ownership over the long term. The biggest implementation cost is tied to the hardware. However, a good RTLS allows you to combine antenna types for effective coverage within a single project to lower the total number of antennas (anchors), thereby, reducing these costs. The long-term cost are lower if the RTLS is maintenance-free, resistant to damage and the battery life in the tracking devices is longer.
Unlike other vendors, Sewio's strategy has always been to not only focus on our product, but also all the stages of its implementation and long-term use. That's why we provide additional software tolls for the planning (RTLS Planner), deployment and maintenance phases (RTLS Studio and RTLS Player). These allow you to plan the hardware's deployment at the best price/value ratio possible and to remotely maintain and reconfigure the system and any of its parts easily.
In partnership with Cisco and Juniper, Sewio RTLS can be added to your current infrastructure of Cisco or Juniper access points for its swift deployment and to help dramatically reduce additional costs.
8. Deployment Time and User Adoption
The time-to-value of digitization projects, the wide acceptance of all stakeholders and user adoption are the often neglected, yet important, aspects that are the difference between a project's success and failure.
A successful project and a great customer experience, coming from real-time location systems, should be backed up by great training, comprehensive, yet easy-to-follow, documentation, consultancy and reliable support.
Unlike other vendors, Sewio provides completely free training for its solution partners to ensure the best experience for their customers. Implementation support, provided by Sewio, can be done both online and onsite, providing our partners with full assistance that is backed up by Sewio's unrivalled 10+ years of expertise of UWB technology, top-down expertise – from networking technology to its protocols, and certification – through to real-life enterprise digitization projects.
Real-life Case Studies of RTLS in Industry
Sewio Partners Delivering RTLS for Industry
The Benefits of Using Sewio RTLS
Rechargeable UWB RTLS tags for employee tracking with a battery life of years.

A fully scalable solution that allows you to customize existing tags, add thousands of tracked assets and increase the coverage as your needs grow.

30 cm accuracy, which allows the full flexibility and variability of virtual zones without any changes of infrastructure.

Sewio RTLS is fully industry certified to guarantee reliable and scalable performance in even the harshest environments.

One flexible infrastructure suitable for multiple existing and future business cases.

We ensure you find the perfect certified and well-trained partner in your region for your project based on customer/partner fit.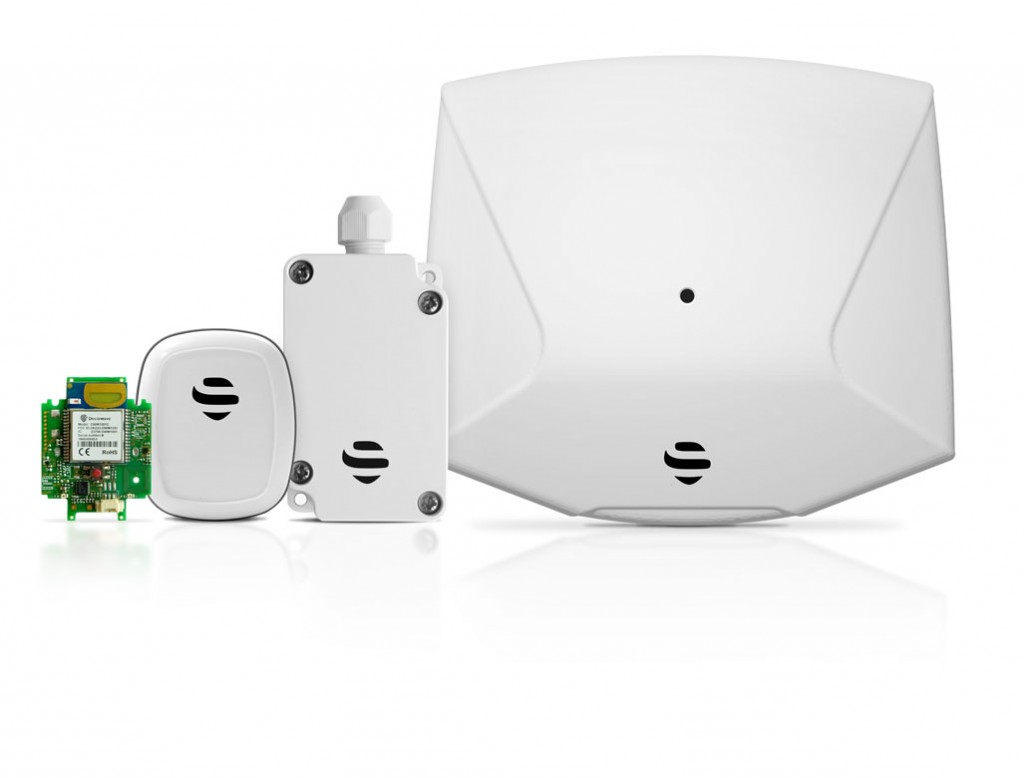 Ready to Start Leveraging RTLS in Industry?
"

Sewio's ultra-wideband RTLS technology is both accurate and easy to deploy, enabling us to collect location data from our customers' businesses to help them achieve operational efficiency. Sewio is one of our most reliable and critical technology partners. Not only do their technology and team support our business, but we also believe their products and services will continue to add more and more value to our customers in the future."

Muhsin Özezen
Director of Product Management, Argeloji