Forklift Tracking and Monitoring System
Real-time tracking of forklifts or other vehicles, such as AVGs, clamps and fork trucks, helps your logistics and production managers achieve greater efficiency, profitability and safety by making better use of your fleet, cutting down on wasted man hours and, more importantly, preventing accidents.
How Does Real-Time Forklift Tracking Work?
Each forklift, AVG or any other manipulation vehicle that needs to be tracked is equipped with a tag that transmits a signal to anchors attached to the ceilings. The anchors then send the signal to the RTLS server and calculate the vehicle's position in real-time and with 30 cm accuracy. The tag can be powered from the vehicle's battery or by its own battery. Please learn more on how UWB RTLS works.
The Benefits of Forklift Tracking
Real-time and Historical Insights into Forklift Operation
By tracking your forklifts, logistics managers are gaining full real-time visibility of the fleet – not only by knowing the exact location of each forklift in real-time, but also by having the ability to track their historical locations with pinpoint accuracy.
The data is then transformed into easy-to-read metrics such as the distance traveled by each forklift, run time versus stop time, the ratio of loaded and unloaded time, the time needed to complete a task, as well as the Overall Equipment Effectiveness (OEE). Given these insights, managers can improve processes and the overall efficiency and utilization of their fleet using the forklift fleet management system.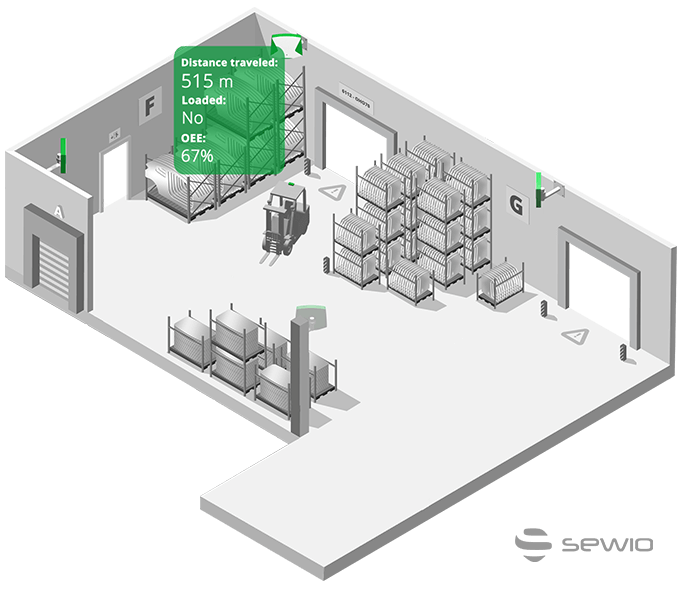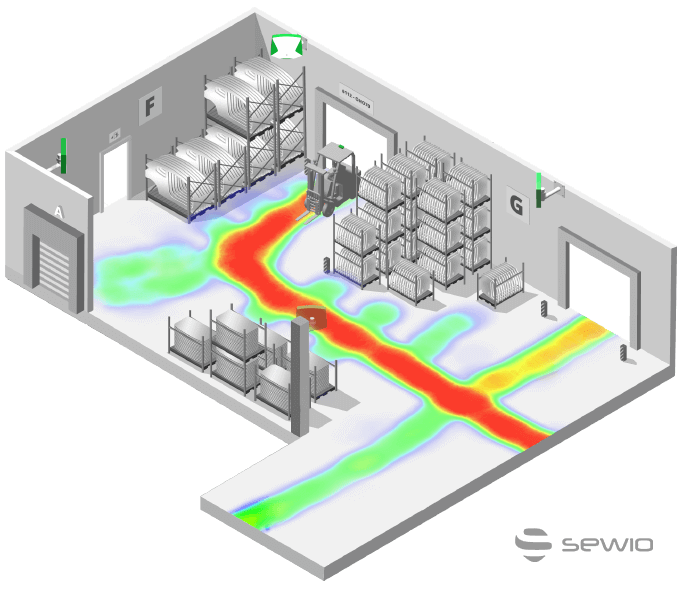 Forklift Traffic Data
As well as the routes of each forklift, advanced visualization can bring additional insights and an understanding of processes to streamline the traffic and remove bottlenecks. These include Heatmaps – showing how the density of the traffic is distributed within the facility and Spaghetti diagrams – visualizing the continuous flow of traffic throughout the halls.
These commonly understandable visualization methods help to onboard and get the agreement of all stakeholders for increasing the efficiency and cutting costs projects.
Forklift Route Optimization and Warehouse Utilization
Fuel costs, the time of drivers and the number of lift trucks needed, all of these can be improved when drivers use the most optimum route. By having complete and exact data at hand, the optimum and the most effective routes can be found for the drivers.
Through looking for inactive vehicles, better planning of the utilization of the warehouse by knowing each item's exact location and seeing who is doing which task in real-time – all of these help to achieve higher utilization and a reduction in costs.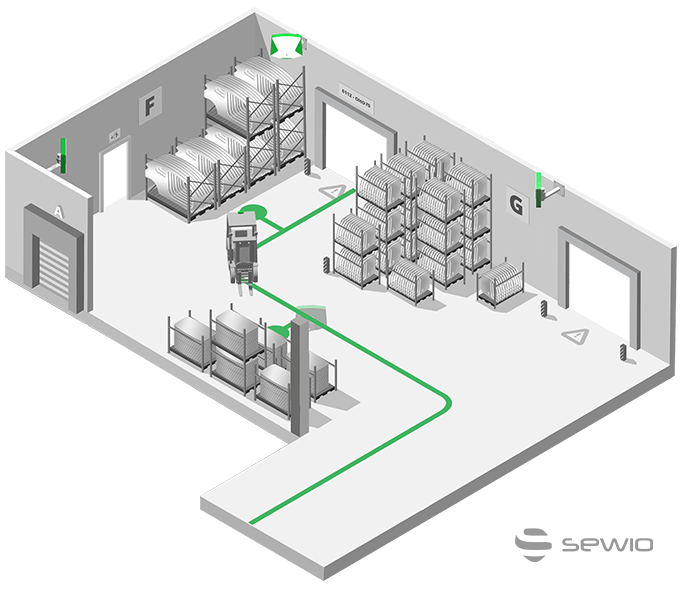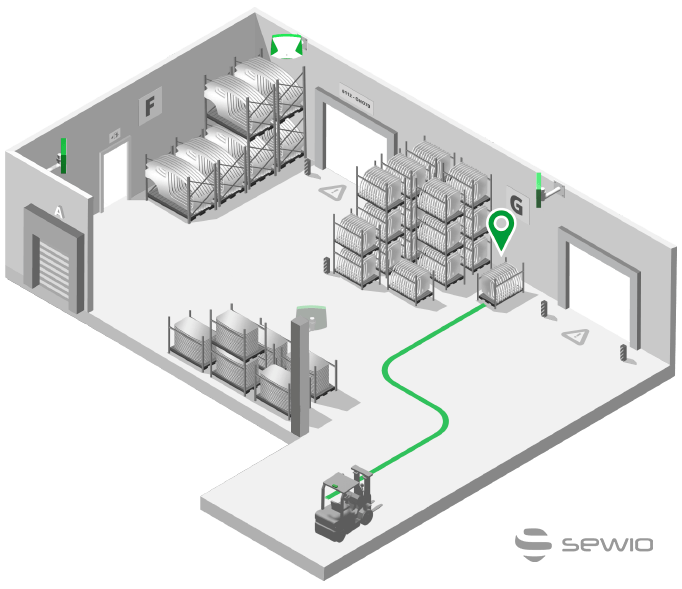 Forklift Navigation and Prevention of Incorrect Unloads
Every forklift is equipped with a screen, so operators have a real-time view of their allocated tasks. Through this, operators immediately know where to pick up the next load and the exact location of where to unload it. In addition, the navigation guides the operator via the fastest/shortest route based on the traffic and blockers on the route.
At the moment the operator is ready to drop off the load, they are immediately alerted if they are at an incorrect position, preventing an incorrect unload. Unlike other real-time location systems, only UWB-powered Sewio RTLS ensures 30 cm accuracy, even in harsh industrial environments, when you need to know the exact position of each pallet.
Increasing Safety Using the Forklift Anti-collision System
In the US alone, every year, forklift accidents account for 85 deaths and 34,900 serious injuries. At the same time, the Occupational Safety and Health Administration (OSHA) estimates that about 70% of forklift accidents could be prevented.
Using employee location tracking to know where people are moving within the facility as well knowing in real-time and with 30 cm accuracy where each forklift is means that the forklift can be automatically slowed down when approaching a cross road or being close to an employee or another forklift. This represent an industry-proven forklift anti-collision system to prevent forklift-to-forklift and forklift-to-employee collisions.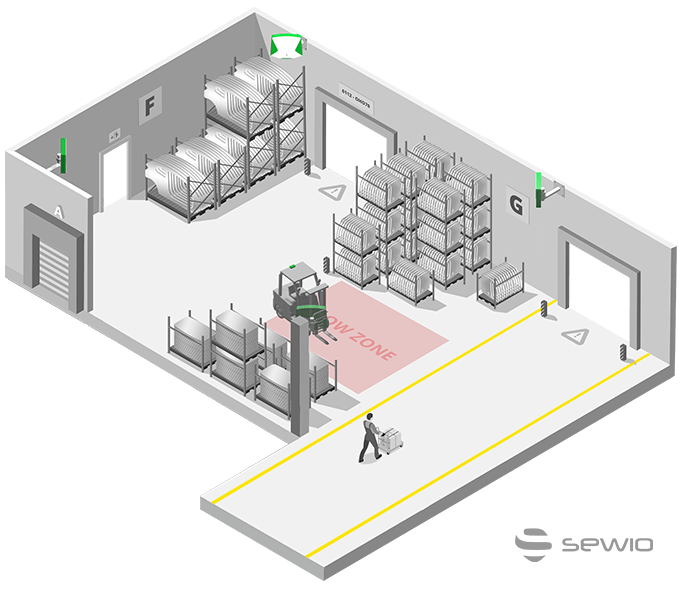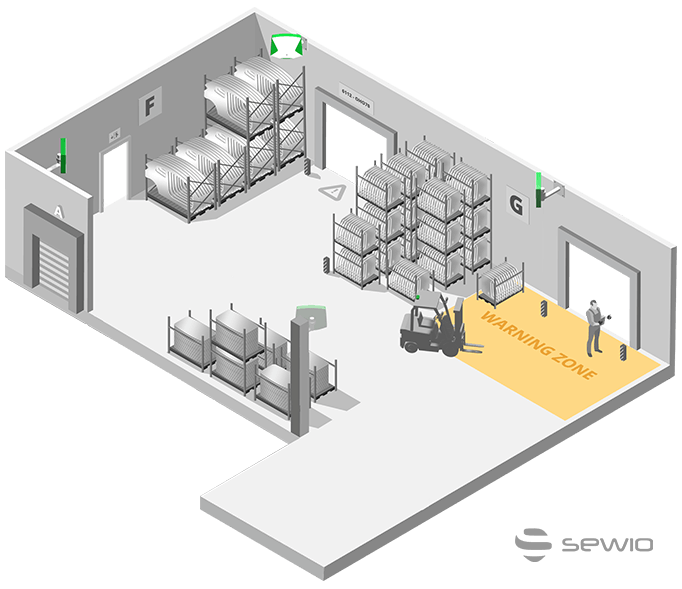 Smart Forklift Alerts for Increasing Safety and Access Control
Sewio's unrivaled scalability to deliver industry-proven indoor tracking projects, whatever the size, allows you to create any number of virtual zones, which can then be easily updated at any time. This gives the intralogistics managers full control over developing virtual zones in which the driver gets alerted or warned to avoid of driving to banned areas.
The forklift driver can also be alerted on his screen if the visitor, e.g. truck driver suddenly steps in his zone of operation to prevent the injury. The alerts can be set not only based on the position of the forklift, but on excessive driving speed. This smart forklift concept increases the observance of access rules, forklift damage prevention and overall workplace safety.
Prevention of Injuries Caused by Collapsing Pallet Racks and Shelving
Collapsing pallet racks, stored objects and whole shelves is among the top five most common warehouse accidents. These are often caused by a previous hit by a forklift when the structure or object didn't fall immediately but was left unstable and prone to collapsing.
The Sewio UWB tags attached to forklifts not only report the exact real-time position but can also additionally measure and report other data, including shocks. Once a shock has been reported, the maintenance team receives its exact position, time and strength, and can immediately react by investigating and fixing the affected area to help prevent injury and material damage.
In addition to that there are no longer any unrecorded damages as the exact time and location of each collision is known.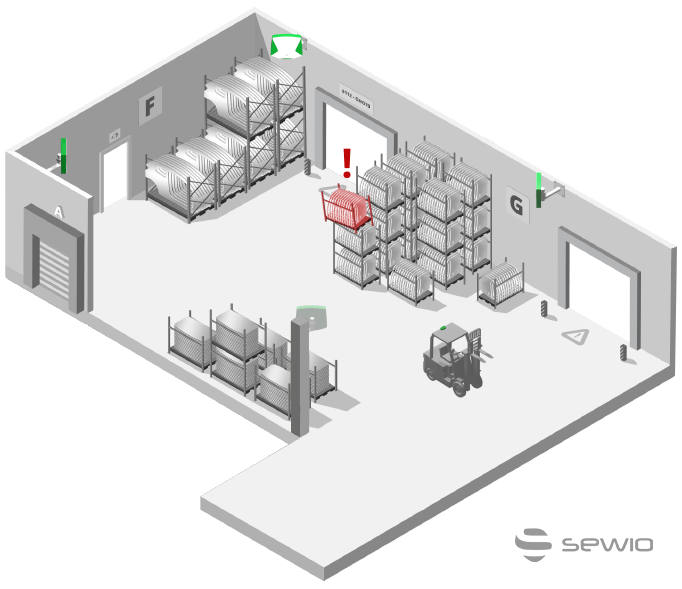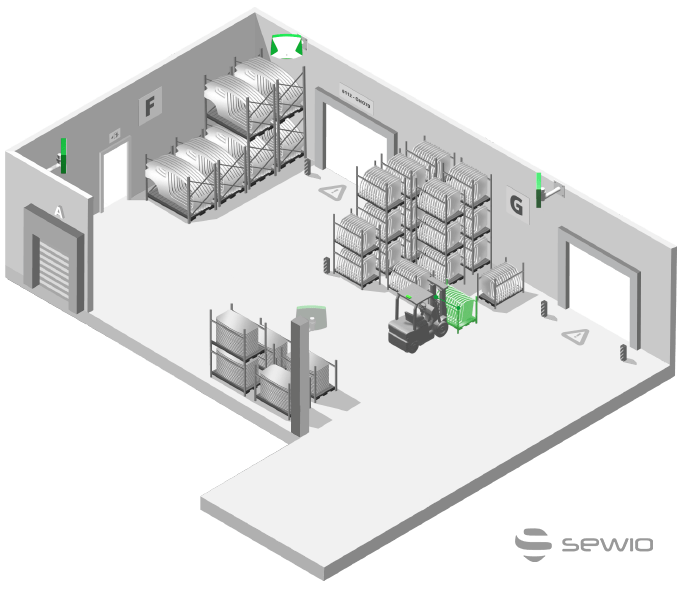 Tracking Material Flow using Forklift Tracking while Reducing Injuries 
In certain use cases, it's reasonable, from a cost standpoint, to use forklift tracking for tracking assets and material flow. Instead of putting a tag on each pallet with the material, which increases the cost of both the actual number of tags needed and the cost of the process of adding them, it's cheaper and easier to track only the forklifts manipulating the goods and by that tracking the pallets too. Anytime the forklift loads the material, the pallet is identified using either cameras and barcodes or NFC technology. At the same moment, the real-time position is known, which creates full visibility of the material's location and its flow without tracking the pallet itself, dramatically decreasing the project's costs.
Furthermore, as the forklift driver doesn't have to leave the driver's cab for collecting Kanban cards, work orders or scanning the pallet, the risk of accidents is significantly reduced.
Improving Forklift Operator Training Using Virtual Reality in a Digital Twin
Using virtual reality for training forklift drivers speeds up their training, saves money and creates a risk-free environment – because in a virtual environment, you can make mistakes that have no financial implications and do not cause any injuries. However, any virtual reality built-in model of traffic within a warehouse gets outdated at the moment of its release.
Only an indoor-tracking-enabled digital twin replaces the model with a real 1-to-1 environment with all the traffic and situations as they are really happening, at the same moment, within the actual facility. This is due to the fact that any motion of objects and persons is being tracked and projected in the VR in real-time. Various unknown circumstances that only come when you experience them in real life are finally available in a risk-free and improved training environment.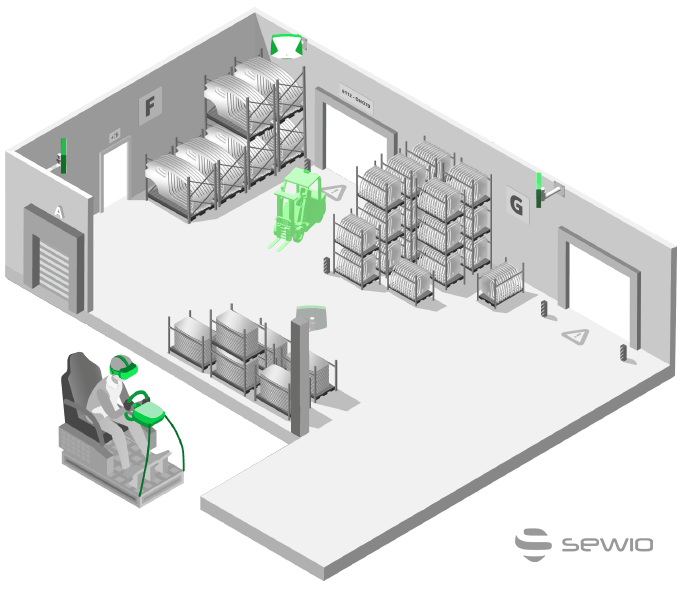 Real-life Case Studies of Forklift Tracking
Sewio Partners Delivering Forklift Tracking
The Benefits of Using Sewio RTLS
30 cm accuracy that allows you the full flexibility and variability of virtual zones without any changes to infrastructure.

Sewio RTLS is fully industry certified to guarantee reliable and scalable performance in even the harshest environments.

Full visibility of your live processes means shorter time-to-value Industry 4.0-ready projects, resulting in optimized workflows, increased production and reduced costs.

One flexible infrastructure suitable for multiple existing and future business cases.

We ensure you find the perfect certified and well-trained partner in your region for your project based on customer/partner fit.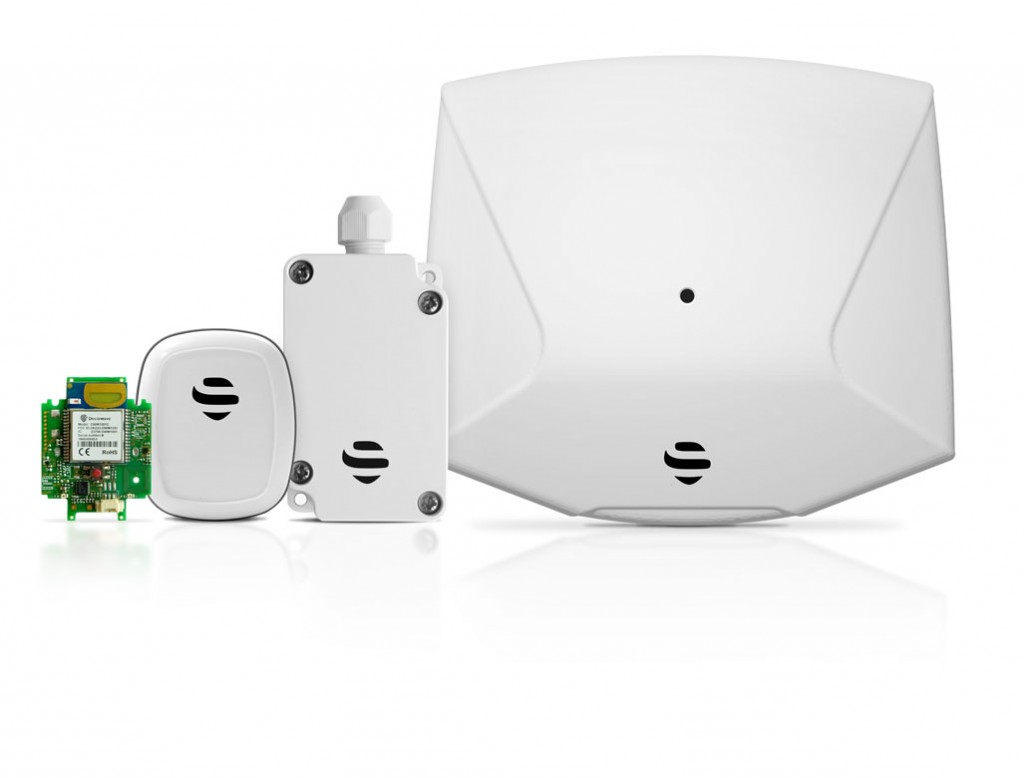 Ready to Improve Safety and Forklift Utilization?
"

We replaced the legacy passive RFID system for tracking forklifts that we had already been using for some years with the UWB-based Sewio RTLS. This allows us to smoothly monitor our forklifts as well as the exact positions of 20,000 of our pallets while ensuring 99.9% of system uptime – compared to 80% with passive RFID. On top of that, we are able to easily use the same infrastructure for additional use cases outside of forklift tracking."

Martin Komorny
Primary Distribution Manager, Budweiser Budvar