What is Indoor Location Tracking and Positioning?
Indoor tracking localizes and follows the movement of entities (people and objects) inside buildings. Indoor tracking is enabled by indoor positioning systems, a network of electronic devices and computer software that is used to locate people or objects where and when GPS lacks precision or fails entirely. While the terms indoor tracking and indoor positioning are interchangeable, there are multiple different types technology, as well as techniques, currently being used to calculate and provide real-time location data, it is necessary to define them separately.
Indoor Location Technologies
While GPS (global positioning system) remains the most prevalent and well-known technology for locating and tracking entities outdoors, there are multiple different technologies that can also be used for indoor tracking and positioning. These include radio-based, optical, magnetic and acoustic technologies. While each of them has its own fit to cover a specific use case, it is radio-based UWB RTLS that ensures the accuracy, reliability and scalability needed for indoor tracking, even in harsh conditions. Making UWB RTLS the right first choice for "Indoor GPS".
| Radio | Optical | Magnetic | Acoustic |
| --- | --- | --- | --- |
| UWB (Ultra-wideband) | Video camera | Magnetic strength | Ultrasound |
| Bluetooth (e.g. Beacons) | Lidar (Light Detection and Ranging) | | |
| UHF RFID | Infrared light pulses | | |
| Wi-Fi (Wireless Fidelity) | VLC (Visible light communications) | | |
How Does UWB RTLS Indoor Location Tracking and Positioning Work?
To track entities within a facility, anchors must be deployed on the ceiling to receive the signals transmitted from the tags attached to the entities that need to be tracked. Anchors receive the signals from the tags and forward them to a server, which then calculates the real-time location of the entity. The same infrastructure created by the anchors' network can be used for tracking any type and number of objects at the same time.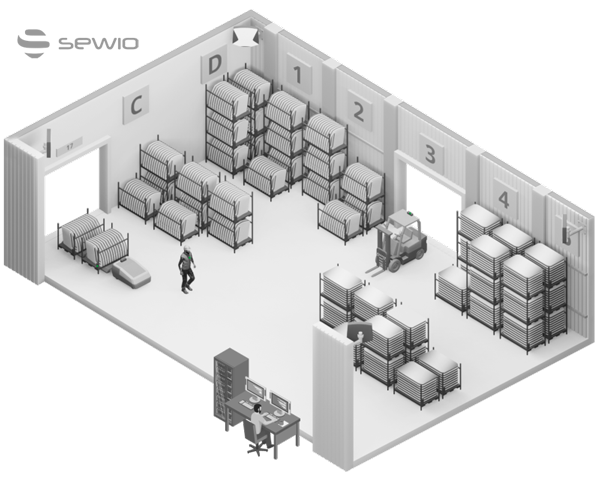 What Are the Components of a UWB Indoor Positioning System?
Receivers – UWB Anchors
An indoor positioning system is made up of receivers, called "anchors", on the ceiling and transmitters, called "tags", on the tracked entities. The tags sends signals to the anchors, which are connected to a network either via cables or wirelessly, they then receive these signals and send them to a server that calculates the accurate position of the tags in real-time.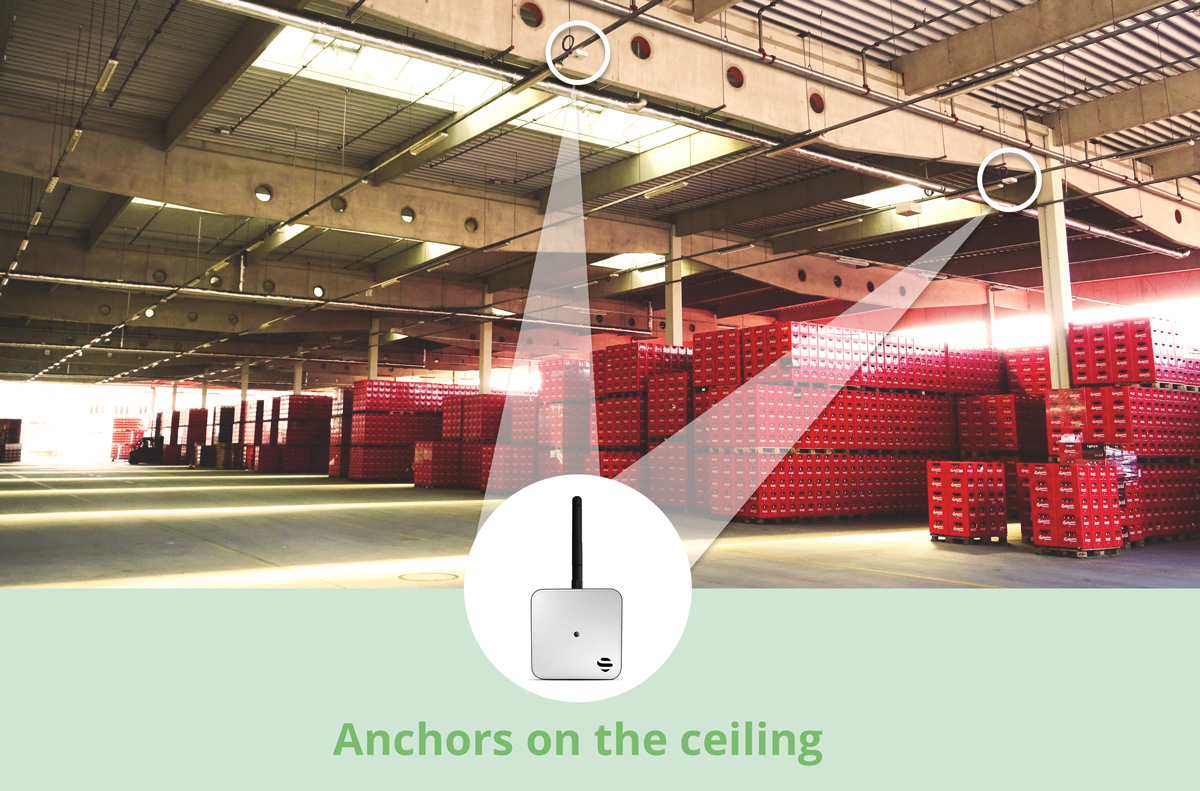 Transmitters – UWB Tags
Depending on the use case, different types of UWB tags are used to achieve the desired performance while keeping the total cost of ownership low. Tags are powered by their own battery or the battery of the tracked object (e.g., a forklift or AVG).
Indoor Positioning Systems Use Cases
Real-life Case Studies of Indoor Tracking
Sewio Partners Delivering Indoor Tracking
The Benefits of Using Sewio RTLS
Rechargeable UWB RTLS tags for employee tracking with a battery life of years.

A fully scalable solution that allows you to customize existing tags, add thousands of tracked assets and increase the coverage as your needs grow.

30 cm accuracy, which allows the full flexibility and variability of virtual zones without any changes of infrastructure.

Sewio RTLS is fully industry certified to guarantee reliable and scalable performance in even the harshest environments.

One flexible infrastructure suitable for multiple existing and future business cases.

We ensure you find the perfect certified and well-trained partner in your region for your project based on customer/partner fit.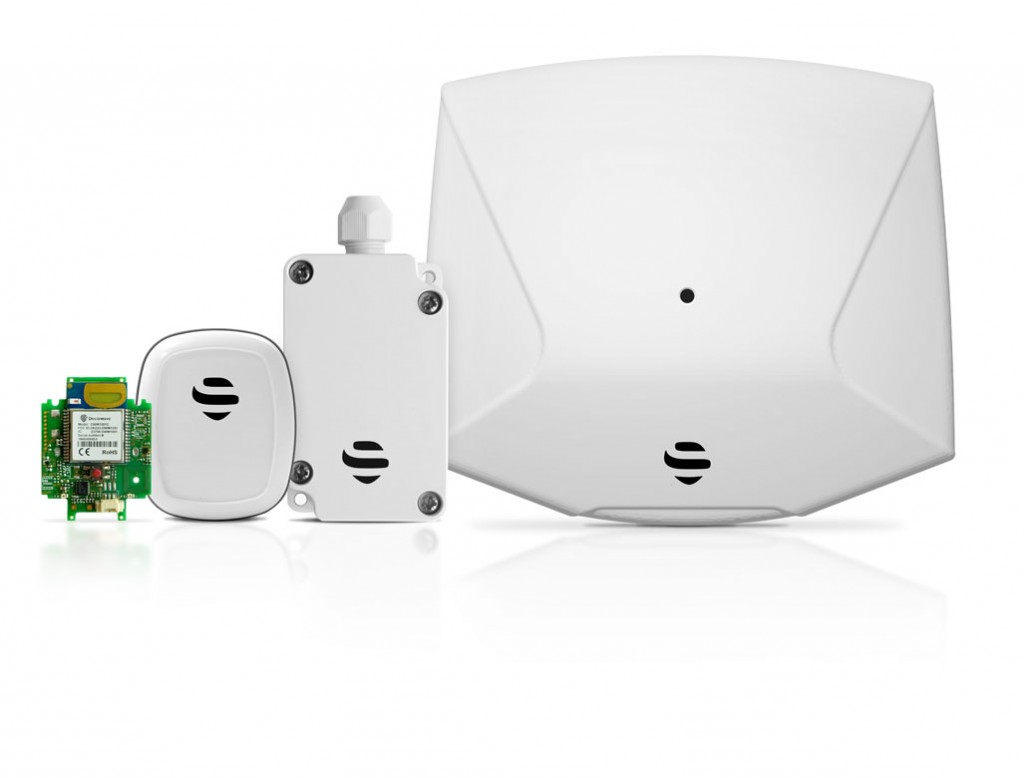 Ready to Start Leveraging Powerful Indoor Tracking Using an Indoor Positioning System?
"

Sewio provides world-class Ultra-Wideband (UWB) hardware that enables C5MI's clients to run the most accurate and effective RTLS system possible. Sewio is a trusted technology partner of C5MI, their products have become a critical component of our Illuminate RTLS solution offerings. The accuracy, reliability, and scalability of Sewio systems are unparalleled, and our belief in their products translates to incredible value for our clients."

Matthew Stemmler
Director of Operational Intelligence, C5MI