Potential for Future Growth is Industry 4.0; Sewio in Hospodářské Noviny
On Monday 25th of July  an article about Sewio in Czech economically orientated newspaper Hospodá?ské noviny was published. The article is highlighting Sewio´s profitability and aims for next two years. The cofounder of Sewio Milan Simek sees a large opportunity in progressing Industry 4.0 revolution: "Industry 4.0 is about location in real-time, internet of things (IoT), communication and cooperation. Our system  fit precisely in these determinations. Companies need to know where and when their individual machines and workers are located in the factory."
Another successful company is raising from the South Moravian Innovation Centre. Brno accelerator from which bounced to billions in sales an internet search engine air tickets searcher Kiwi (formerly skypicker) and also helps the developer positioning systems Sewio Networks to grow. In the early summer 2016 got Sewio  for first time into operating profit. Sewio managed that just two and a half years after the company´s foundation. This year the owners Lubomir Mraz and Milan Simek are planning to earn around eleven million profit, which is approximately four times more than last year.
"During the first half of this year, we exceeded the border of five million, meaning that we are successful in achieving our goal," says one of the company "parents" Simek. According to him, next year Sewio is going to attack the 20 million border and continuously work on dynamic growth. The extensive support should be a future establishment of subsidiaries in the US and Germany.
Development of the company was rapidly raised by the investment of 1 million USD last September. Sewio gained the investment in exchange for 25% of its shares from capital fund Y Soft Ventures.
The core business of Sewio is a device capable to track and locate movement of people and equipment indoor with a precision of a few centimeters in real-time. This device uses electronic chips transmitting low-frequency radio waves and a receiver, which is possible to install to the ceiling or columns at minimal costs. The resulting data is analyzed by a specialized software.
Brno start-up does not sell their product directly, but cooperates with implementation partners who applies the platform to the individual customer.  Right now the most important partners for Sewio are Kodys Slovakia and the Italian specialist on retail marketing Grottini.
"We are focusing on three areas where our platform is applicable: retail, sport and industry. So far we live by the first two because the retail and sports have individual reachable orders realizable within a month. Application for the industry takes longer time," Simek says.
In retail, the platform is most commonly used for monitoring customer´s behavior. For example one unnamed supermarket operator in Germany integrated Sewio´s chips inside shopping carts, to analyze which one of shelves are the most attractive for the customer. "Sport application of platform has ability to helps coaches to make more complex overview of players' motion and activity," Simek says .
Original of the article in printed version.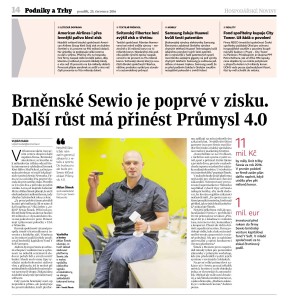 Online version of the article: Here
The cofounder of Sewio Milan Simek sees a large opportunity in progressing Industry 4.0 revolution: "Industry 4.0 is about location in real-time, internet of things (IoT), communication and cooperation. Our system  fit precisely in these determinations. Companies need to know where and when their individual machines and workers are located in the factory." We offer a platform able to do this in a versatile and inexpensive way in comparison with our competitors. "
Simek and Mraz organized a workshop for potential customers from industry, where they showed their system utilization in factories or warehouses.
Sewio has been working for a couple months on the first extensive industrial contract. Slovakian automotive manufacturing company ordered the system. This deal still has not been completely finished that is the reason why Simek cannot specify and name the company. "The contract value is in millions of crowns," he simply says.
English translation.
Original written by Vojt?ch Kubát, published in Hospodá?ské noviny 25th of July, 2016.