Feature-rich Analyzer For Zigbee / 6lowpan / 802.15.4 Networks And Iot Devices
There are several things that you should consider before you buy any sniffer. You are advised to consider following paragraphs.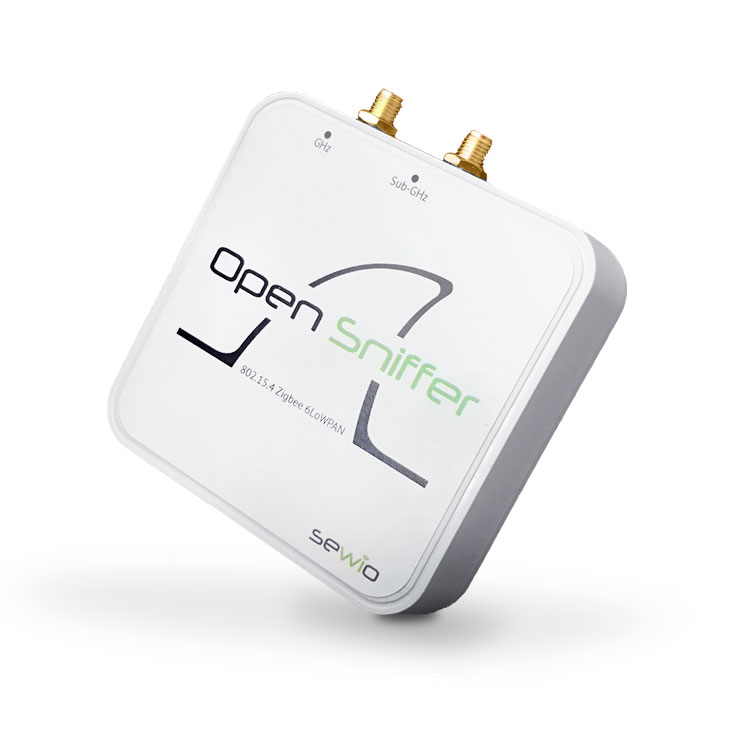 Product Activation and Transfer
Commercial Sniffers

Sniffer's license is mostly assigned to a dedicated computer. The license transfer might require a several deactivation and activation steps. Communication with the producer might be necessary.
Supported Frequency Bands
Commercial Sniffers

Analyser's software license or hardware module might be tied to a specific frequency band. The more bands you need the more you pay.
Open Sniffer

Open Sniffer directly supports 2400/915/868/780 MHz bands. No additional fees are required.
Commercial Sniffers

Access to the sniffer's SDK mostly requires additional fees.
Open Sniffer

Open Sniffer is based on open-source software Wireshark. Find out more, read our tutorial.
Automation and Control via HTTP Interface
Commercial Sniffers

Communication protocol for sniffers on the shelf is generally not available. Therefore any remote control or automation is almost impossible.
Open Sniffer

Open Sniffer can be easily controlled remotely via HTTP interface. It might be driven from some script language such as Python. Then, together with Injection mode, where user may transmit arbitrary 802.15.4 frames, OpenSniffer can be employed for complete autonomous testing of your IoT product.
Communication Interface and Coverage
Commercial Sniffers

They are mostly based on USB which brings limitation of cable length and also might introduce an integration complexity. Let's imagine that you want to monitor several rooms. With the USB based sniffer you need to have a host computer for every room. This means that you need not only more computers but also more licenses.
Open Sniffer

Open Sniffer employs the Ethernet interface. Ethernet has basically no cable limitation (up to 100m), so you can connect the sniffer directly even from distant areas or you can seamlessly connect the Open Sniffer to ubiquitous TCP/IP network infrastructure. In case of multiple sniffers, just an one host computer is needed. Therefore, there are no additional license fees.
Commercial Sniffers

Many of sniffers available are based on the Virtual COM Port interface. Let's focus on their communication speed which is typically 38.4kbits or 115.2kbits. Now please think about 250kbits which is typical PHY data rate of Zigbee/802.15.4 network. It is obvious that those sniffers might get into troubles such as packet loss whenever communication within the network starts to be intensive.
Open Sniffer

Open Sniffer communicates via Ethernet interface which can easily transfer up to several Mbit/s.
Commercial Sniffers

The most of off-the-shelf sniffers use the internal PCB or chip antenna. These antennas suffer from the poor radio performance and directional pattern.
Open Sniffer

Open Sniffer gives you the choice to connect antenna that suits you. Original antennas supplied with Open Sniffer have reasonable gain and omnidirectional pattern.
Multiple Sniffers/Channels support
Commercial Sniffers

Sniffer device can sense only one channel at a time. More channels are analyzed by paralleling sniffer devices. Regularly, this feature requires a special type of software license. This can be very expensive up to several thousands of Euros.
Open Sniffer

You can use parallel Open Sniffer devices without any limitation.
Time Sync Among Multiple Sniffers
Commercial Sniffers

Synchronization is frequently implemented wirelessly. This has impact on your tested network, even if manufacturer try to say you anything else.
Open Sniffer

Currently not supported. Planned for future firmware releases via PTP IEEE 1588.