Feature-rich Analyzer For Zigbee / 6lowpan / 802.15.4 Networks And Iot Devices
Open Sniffer is newly supported in Ubiqua IoT packet analyser. This software boost its capabilities in order to decode following protocols: Zigbee including application profiles, ZigBee Light Link, ZigBee Green Power PopNet, ZigBee RF4CE, SynkroRF, IETF 6LowPAN and JenNet-IP.
In order to use the Sewio Open Sniffer in Ubiqua, it must be connected and configured in the same subnetwork as the computer running Ubiqua. Please refer to "Part 1" of the sniffer installation.
The process of configuring the sniffer in Ubiqua is simple. First, we add the device by right clicking on the Device Manager View or via the Device main menu.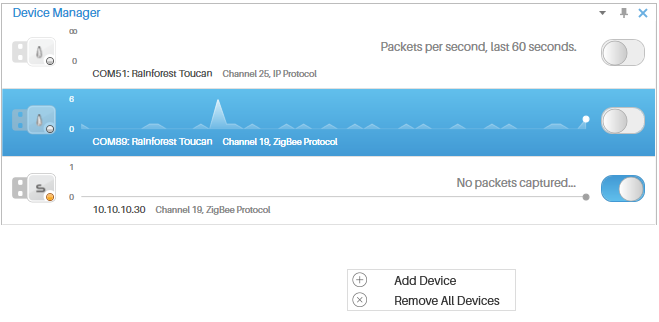 In the Add Device window select Sewio as the Vendor.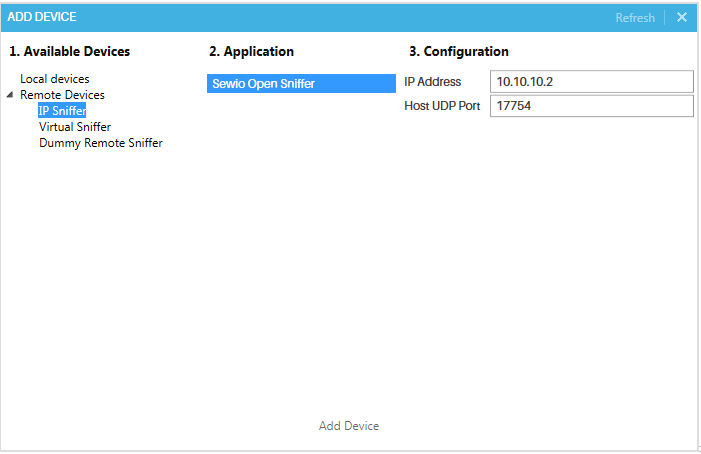 Then type the configuration parameters (IP Address and Port number) of the Sewio device, set the IP Address of the Sniffer and the UDP port that you want Ubiqua to listen for the packets. If you're configuring multiple sniffers, it is recommended to use a different UDP port for each sniffer.
At this point the Sewio device is added to Ubiqua. Before starting the device it's important to set the host, channel and protocol stack of the capture data using the context menu that appears by right clicking on top of the device. Usually the device is configured in the "10.10.10.XXX" IP address range. Lastly, select Start Device to begin capturing packets.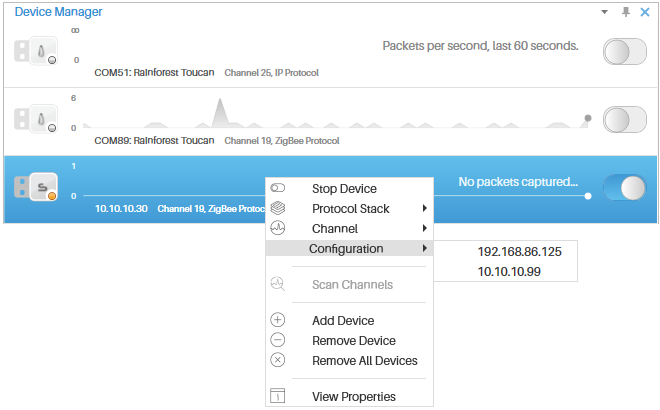 Note that if you change the device configuration from the Sewio web interface, the sniffer may stop sending packages to Ubiqua, just stop and restart the device from the Ubiqua Device Manager to correct the situation.